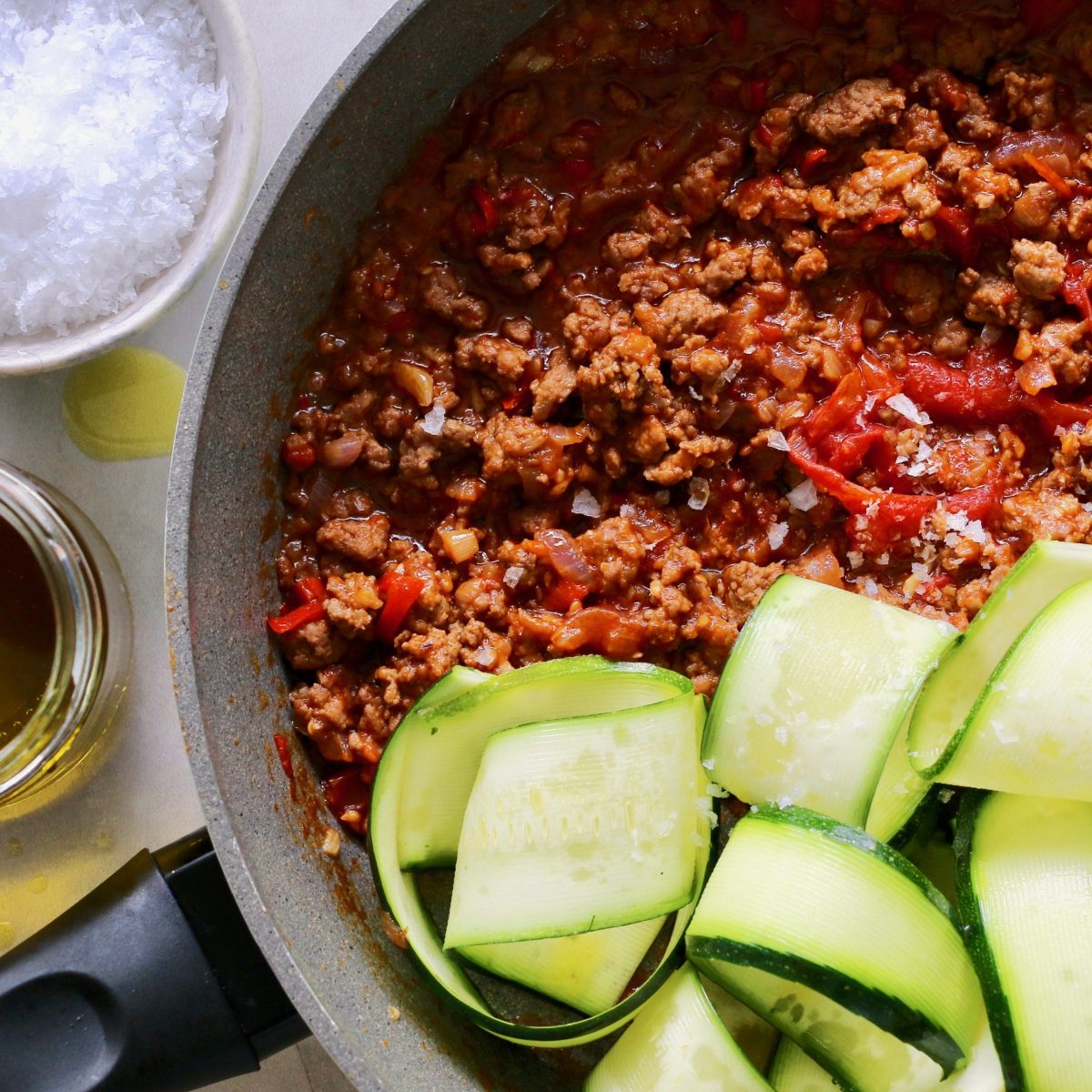 25 Nov

Zucchini Ragu
Healthy Hearty Zucchini Ragu
This healthy dinner recipe is hard to beat! Nourishing and delicious, yet light and simple with a 100% plant-based Vegan option, it's sure to please the whole family!
Packed with essential fatty acids, vitamins and minerals and of course loaded with greens. You'll have this healthy dinner recipe on the table in no-time. This one is great to make in bulk to feed a large family, or simply to have delicious meals on hand for during the week.
Low Carb, Keto, Vegan option and nutrient-rich.
This delicious and health-boosting recipe is by Luke Hines. Simply multiply the recipe to share with the whole family.
Serves 1
Ingredients
---
non-aerosol coconut oil spray or macadamia oil spray, for frying
1/4 brown onion finely diced
1/4 long red chilli finely diced
1 garlic clove finely diced
100g grass-fed beef mince or preferred mince
 *For Vegan option, use 100g crushed sunflower seeds or hemp seeds
1/2 cup tinned cherry tomatoes
1/2 cup stock or broth, or passata
1/4 tablespoon dried Italian herbs
1 zucchini, sliced into thick strips
extra macadamia oil spray, for drizzling
salt and pepper to season
Method
---
*For Vegan/plant-based option, blitz, crush or chop your sunflower seeds to create your mince, or use whole hemp seeds.
Heat a large fry pan over medium to high heat, and spray with your non-aerosol coconut oil spray or macadamia oil spray, ready for frying. Add your onion, garlic and chilli, cooking for 3-4 minutes until softened and caramelised. Add in your mince/seeds and cook, lightly frying on all sides for 2-3 minutes.
Pour in your tinned cherry tomatoes, they add an amazing sweetness, stir to distribute well. Add your dried Italian herbs and broth or passata, mix well and turn the heat down and allow it to simmer for 15 to 20 minutes until the sauce is lovely and thick
and reduced.
Meanwhile, prepare your zucchini so it is ready to strip through once your sauce is cooked. Serve seasoned well with salt and pepper and enjoy.
Don't forget, it's super easy to make double, triple or more to save time and have something delicious for the whole family, or ready-made-meals for the whole week!
Share, love and enjoy!
---