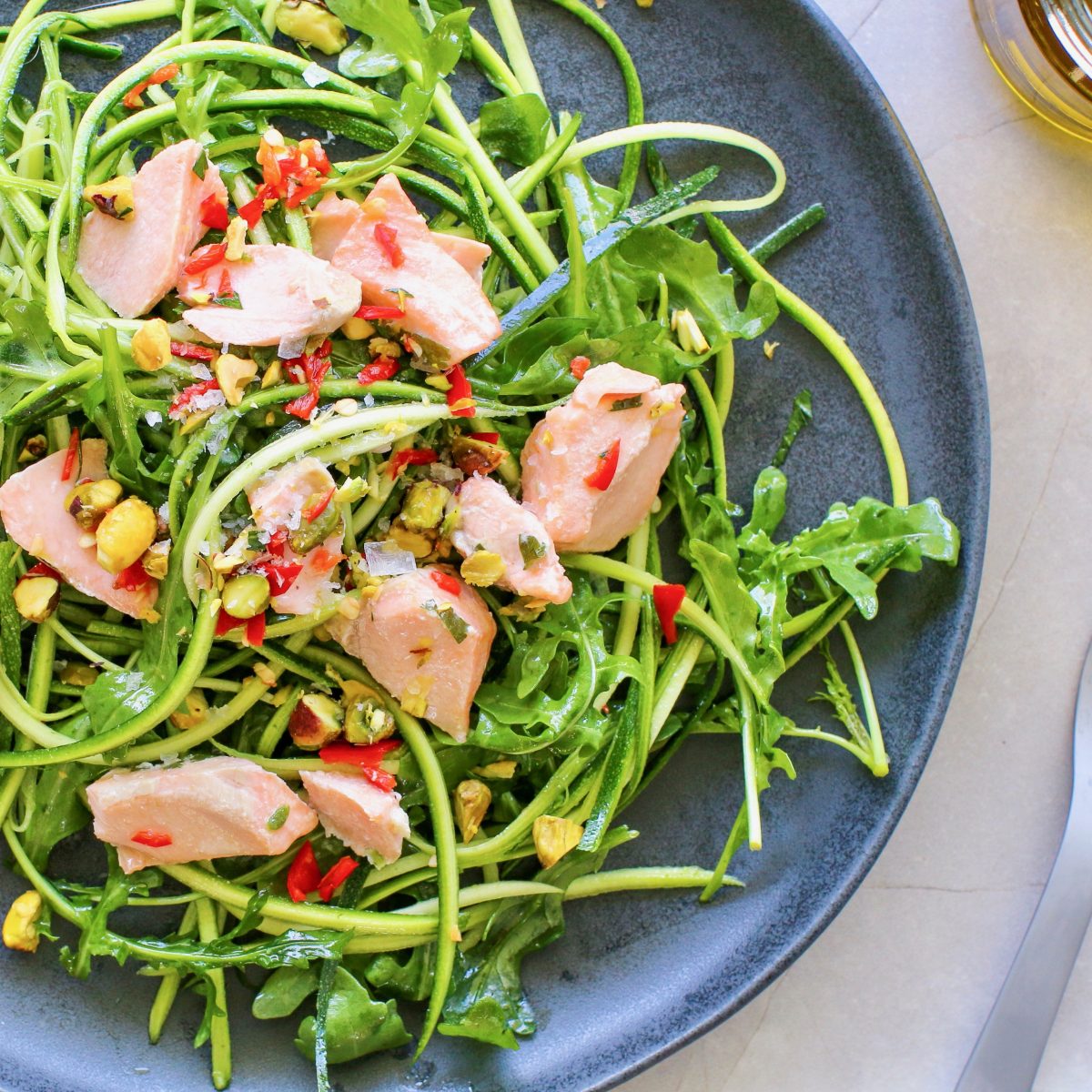 20 Nov

Spiralled Salmon Salad
Spiralled Salmon Salad
A simple, delicious healthy lunch recipe! There is nothing more nourishing than simple poached salmon with fresh vibrant greens, dressed in immunity-boosting avocado oil, apple cider vinegar and a pinch of salt!
Possibly our favourite Summer healthy lunch recipe, or dinner! Be sure to make double for an incredible ready-made meal the next day.
Packed with healthy essential fats like omega-3, vitamins and minerals, high in antioxidants and amazing for feeling lite yet truly nourished. The ingredients help us to reduce inflammation, support hormone balance, regulate our blood sugar and support our metabolism.
Low Carb, Keto, Gluten-free, and nutrient-rich.
This delicious and health-boosting recipe is by Luke Hines. Simply multiply the recipe to share with the whole family.
Serves 1
Ingredients
---
125g salmon or tinned salmon/tuna
1 zucchini, cut or grated into zoodles
1 cup baby rocket (or spinach)
1/4 long red chilli, finely chopped
1 spray extra-virgin avocado oil
1 tablespoon apple cider vinegar
squeeze of fresh lemon or lime juice (optional)
1 tablespoon toasted nuts or seeds to garnish (optional)
salt and pepper to season
Method
---
*If using tinned salmon/tuna, skip this step – Get started on the poached salmon by bringing a saucepan of water up to the boil, then reduce to a simmer and place your fish in. Depending on how you prefer your fish cooked, leave in the water simmering for between 4 and 6 minutes, remove with a slotted spoon and set aside to rest as it will keep cooking once removed from the poaching liquid.
Meanwhile, to prepare your zesty green pasta salad, combine the zucchini zoodles, baby rocket and chilli in a bowl and generously toss in the extra-virgin olive oil and lemon juice.
Once the salmon has cooled slightly, break it apart with your fingers into small chunks and serve on top of your fresh and zesty pasta salad. Garnish with toasted nuts or seeds if using and season with salt and cracked pepper.
Don't forget, its super easy to make double to save time and have something delicious and ready for tomorrow!
Share, love and enjoy!
---