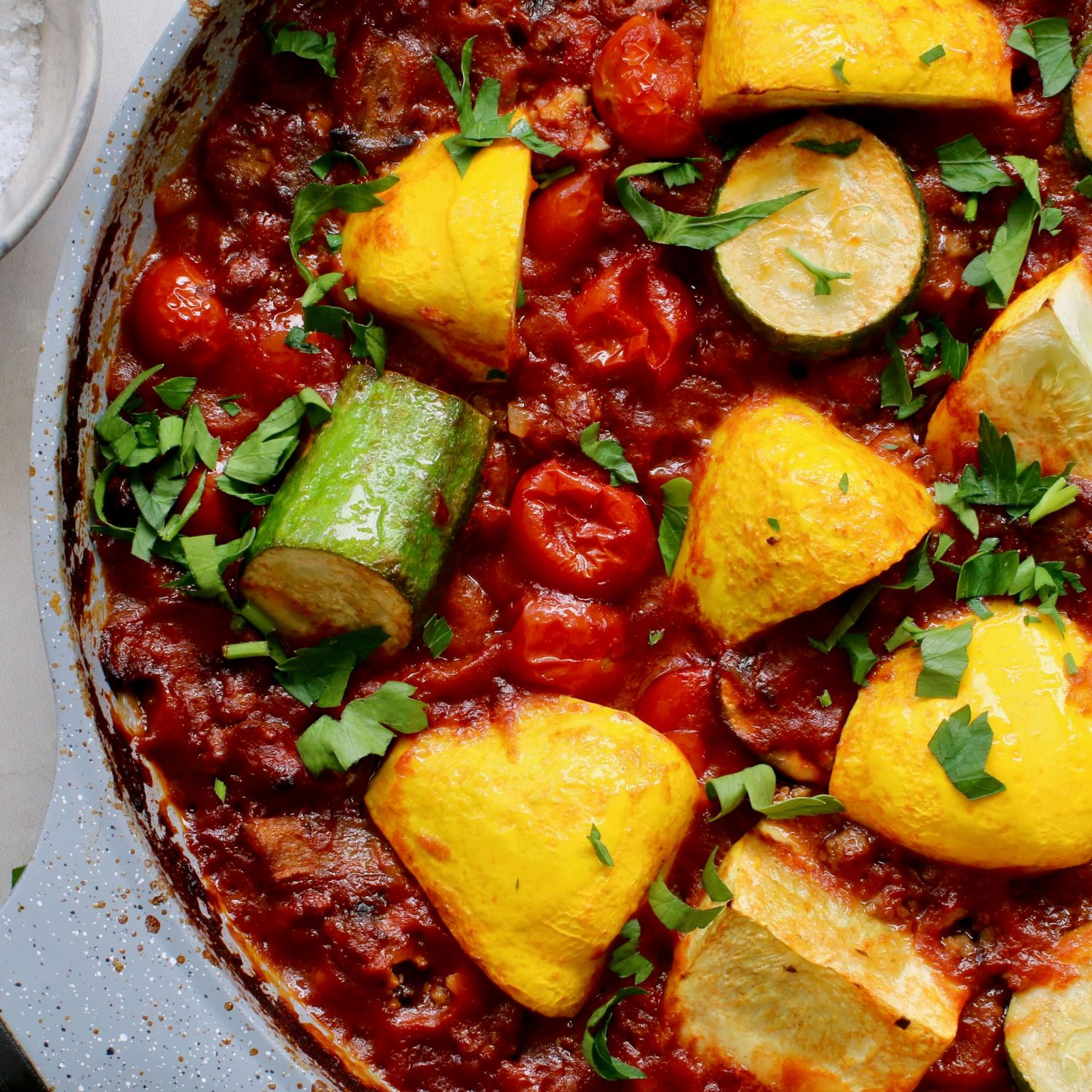 23 Jun

Sensational Veggie Shakshuka

This rich and delicious vegetable shakshuka recipe is a plant-based twist on the middle eastern classic – it really is sensational!

Quick and easy to make, great for sharing. It's nourishing, warming and packed with so much goodness, this one will have you coming back for more!

Keto friendly, Plant-based, Paleo and Vegan, Paleo.

This delicious and health-boosting recipe is by Luke Hines.

Serves 4
Ingredients
---
1 tablespoon coconut oil, for frying
2-3 garlic cloves
1 brown onion, roughly chopped
1-2 long red chillis (optional), roughly chopped 
1 teaspoon ground cumin
1 teaspoon ground coriander
400g (or 2 tins) tinned tomatoes diced or whole
2 zucchinis, sliced
2 yellow squashes, quartered
1 handful fresh flat-leaf parsley, to garnish
extra-virgin avocado oil, to drizzle
salt and cracked pepper to season
Method
---
Get started by preheating your oven to 180C and place an oven-safe fry pan over medium heat and melt the coconut oil so you're ready to cook! It's best to use a fry pan suitable for the amount of serves you are making for this dish as it is best if it is both cooked and eaten in the same pan.
Add your garlic, onion and chilli to the pan and sauté for 2-3 minutes until it softens and turns slightly golden brown. Add your mince and using a wooden spoon, break up the mince and brown all over.
Add your ground cumin, ground coriander, season with a little salt and pour in the tinned tomatoes (I love the colour and flavour the cherry tomato variety bring). Stir well to combine and then place your zucchini and squash into the mixture to cook.
Carefully transfer your pan to the pre-heated oven and cook for 10 minutes until your vegetables have softened and your sauce has thickened up nicely. Alternatively, allow to simmer in the pan on medium heat.
Serve in the pan with a sprinkle of fresh flat leaf parsley, drizzle with avocado oil and season well with salt and pepper.
Share, love and enjoy!