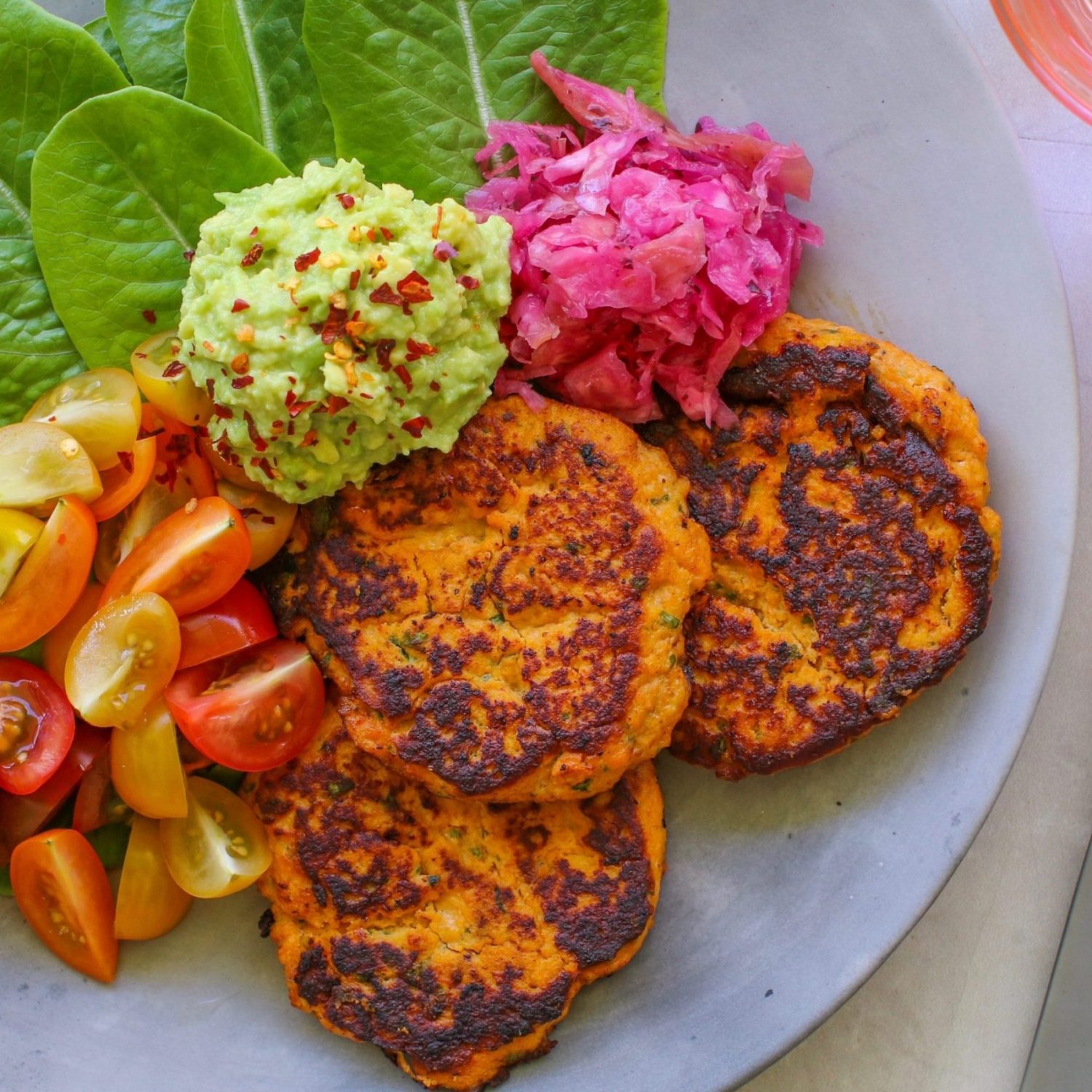 11 Feb

Pumpkin Patties with Smashed Chilli Avo
Pumpkin Patties with Smashed Chilli Avo
These Pumpkin Patties with Smashed Chilli Avo are the perfect plant-based dinner! We love the taste of the crispy fried pumpkin patties lightly charred, a little bit salty and topped with avocado oil infused creamy chilli avocado smash!
The best part is the patties can be enjoyed hot or cold, so we always make extra for a delicious lunch during the week.
The recipe is gluten-free, dairy-free, vegetarian and simply amazing! Created by the talented Luke Hines.
Serves 1. Simply multiply the recipe to serve the whole family, or to take along to a summer celebration!
Ingredients
---
1 cup pumpkin uncooked, diced very small
1 free-range egg, whisked
2 tablespoons almond meal or coconut flour
1 tablespoon arrowroot flour or tapioca flour
1/4 teaspoon ground cumin
1/4 teaspoon ground coriander
1/4 teaspoon dried chilli flakes, optional
1 tablespoon coconut oil for frying
1/4 avocado smashed
4 cherry tomatoes halved
1 cup fresh green leaves mixed lettuce
Cocolife non-aerosol avocado oil spray
1 teaspoon lemon or lime juice to dress
salt and pepper to season
Method
---
Preheat your oven to 180C and line a baking tray with baking paper. Spray a little avocado oil over your pumpkin pieces and bake in the oven for 10 to 15 minutes, or until soft enough to mash with a fork.
Once your pumpkin is cooked, transfer to a bowl or food processor, and combine well with the egg, almond meal, arrowroot flour, ground cumin, ground coriander, dried chilli flakes, and season with salt and pepper. Heat a frypan over medium heat and melt the coconut oil ready for cooking your patties. Using your hands or a spoon, portion into your preferred patty size.
Cook the patties in batches if need be, allowing to cook thoroughly on one side before attempting to flip, ensure they are stable. You want them to be lovely and golden brown on the outside. Cook for a further 3-4 minutes on the remaining side then remove from the pan.
Smash your avocado and top with chilli flakes if using. Dress your avocado, salad and cherry tomatoes well with avocado oil and lemon juice.
Serve your patties alongside your fresh ingredients, a generous tablespoon of fermented vegetables, season well with salt and pepper and enjoy.
---