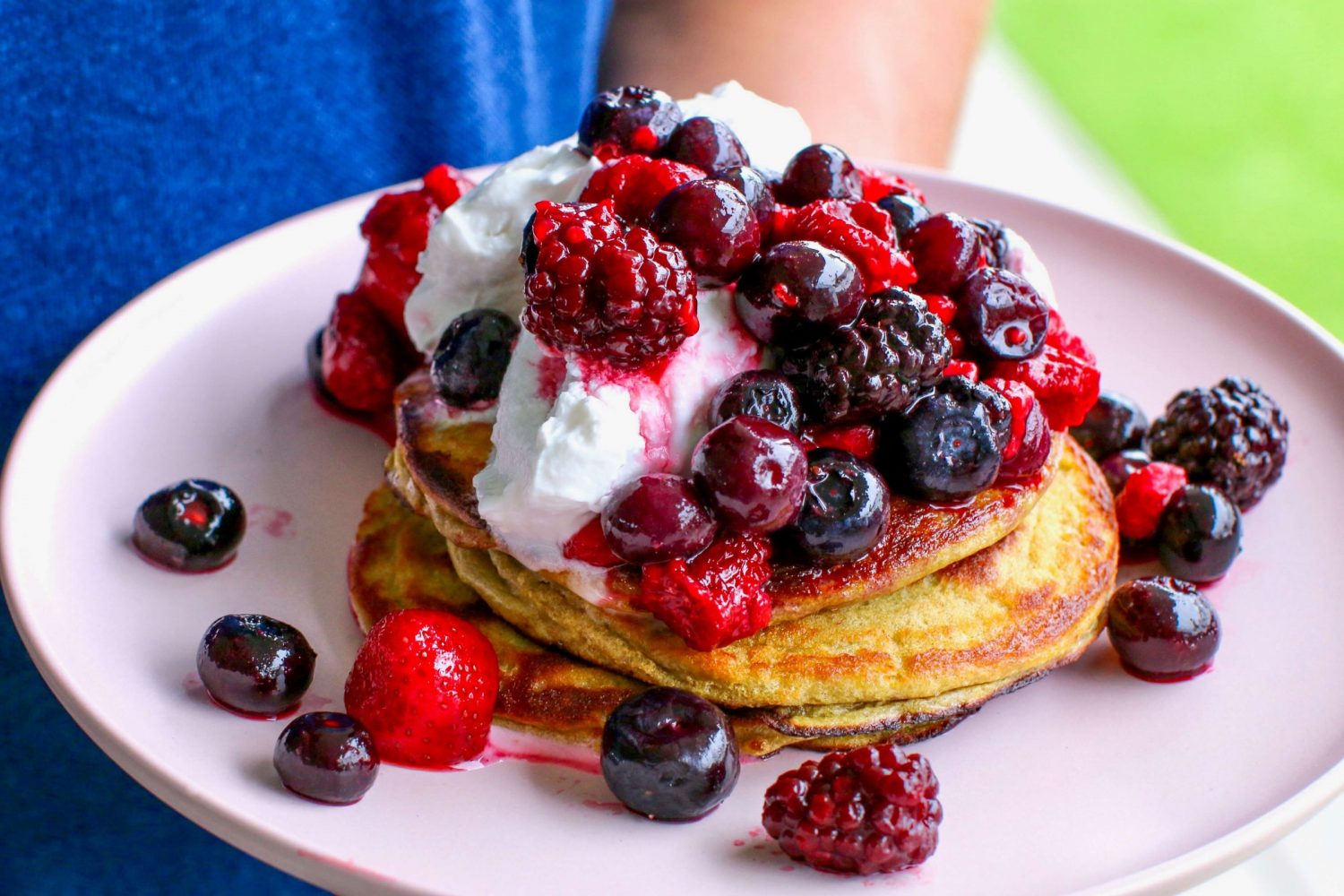 23 Oct

Healthy Protein Pancakes with Mixed Berries and Cream
Healthy Protein Pancakes with Mixed Berries and Cream
Did someone say quick, easy and delicious AND healthy protein pancakes were on the menu? Yes, please!
These delicious low carb pancakes are so easy and quick to make, and with nothing but simple wholesome ingredients, they'll be on your plate and nourishing your soul in no time.
Topped with antioxidant-rich berries and heart-healthy fats, they are the perfect breakfast any day of the week!
Low Carb, Gluten-free and Vegetarian with a Vegan option.
This delicious and health-boosting recipe is by Luke Hines. Simple multiple the recipe to share with the whole family.
Serves 1
Ingredients
---
2 free-range eggs whisked, or one flax-egg for Vegan (see below)
1 banana ripe, mashed
1 heaped tablespoon protein powder or almond meal
1/4 cup mixed berries, to serve
1 tablespoon coconut yogurt or cream, to serve
Macadamia oil spray (non-aerosol), for frying and drizzling.
Method
---
For the pancakes, combine the whisked eggs, mashed banana, plant-based protein powder (or almond meal) and combine well using a whisk or spoon. Heat a fry-pan over medium heat and spray your pan with macadamia oil ready for frying.
Spoon your batter into the pan to your preferred pancake size, whether it be multiple smaller pancakes or one large mega pancake. Cook for 2-3 minutes or until the edges have framed up and it is stable enough to flip. Using a spatula, flip the pancake(s) and cook for a further 1-2 minutes until golden brown and cooked through.
Serve topped with the coconut yogurt, mixed berries and an extra drizzle of macadamia oil for good measure!
Share, love and enjoy!
---
How to make FLAX EGGS
To make a flax egg, mix 1 ½ tablespoons flaxseed meal with 3 tablespoons of water in a bowl. Transfer to the fridge and leave for 15–30 minutes, or until the mixture has begun to bind and thicken and is all 'goopy', like an egg. It's as simple as that.