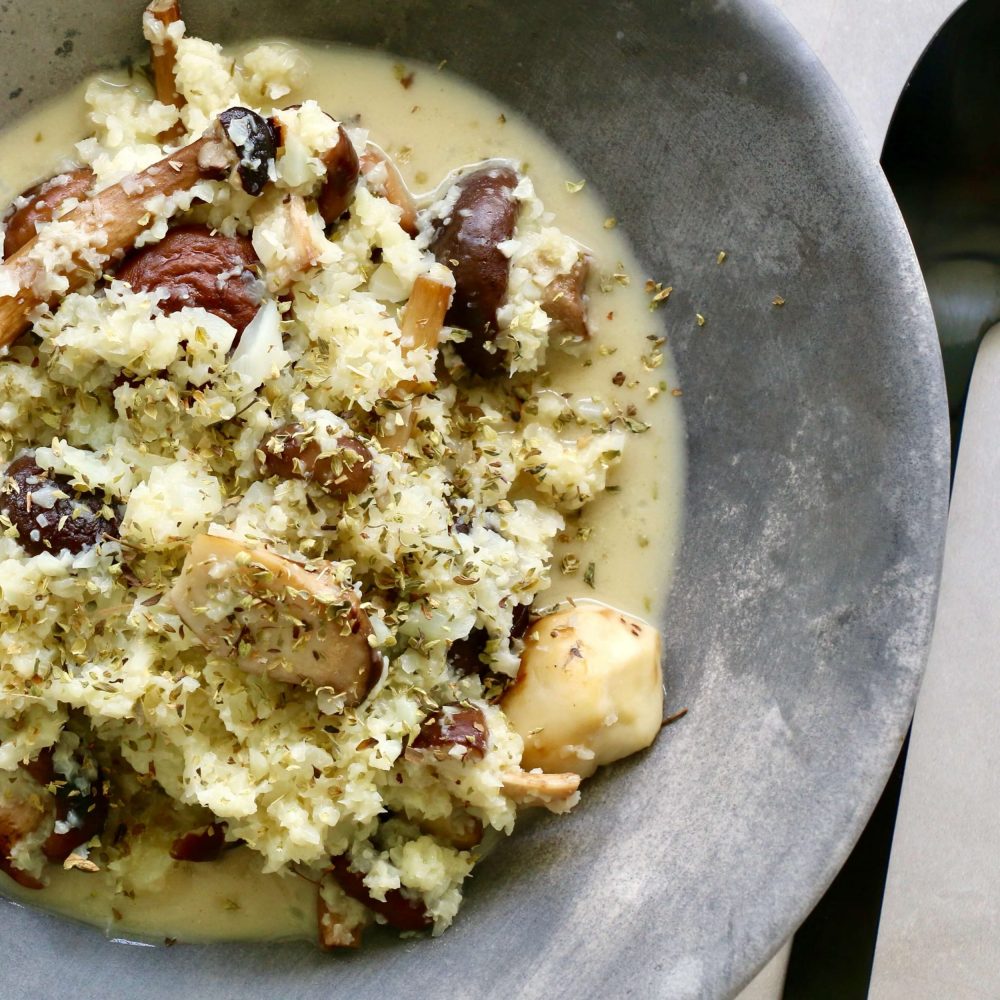 13 Jun

Hearty Mushroom and Cauliflower Risotto

Plant-based, warming, hearty, and so delicious. This low-carb Mushroom and Cauliflower Risotto is even better than the real thing. Packed with immunity-boosting nutrients like antioxidants, vitamins and minerals, and healing phytonutrients – the perfect winter warmer. Take it to the next level with a drizzle Avocado oil or MCT Keto Tonic.

Keto friendly, Plant-based and Vegan option, Paleo, gluten-free, dairy-free, refined-sugar-free and nut free!

As always, this delicious and health-boosting recipe is by Luke Hines.
Ingredients
---
100g button or mixed mushrooms
1/4 head cauliflower riced
1/4 cup free-range chicken or vegetable stock
1 tablespoon coconut cream
1/4 teaspoon dried rosemary
1/4 teaspoon mixed herbs Italian work wonderfully
1/2 tablespoon coconut oil, for frying
1/2 tablespoon extra-virgin avocado oil or MCT Keto Tonic
salt and cracked pepper to season
Method
---
Heat your coconut oil in a fry pan over medium to high heat and add your mushrooms, cooking, stirring often, until they're softened and cooked down slightly, about 4-5 minutes.
Add your cauliflower rice and stir fry with the mushrooms for 1-2 minutes. Then pour in your stock and coconut cream, dried herbs, and a good pinch of salt and bring to the boil. Quickly reduce to a simmer and cook on medium until the sauce has thickened to your liking.
Serve with a drizzle of extra-virgin avocado oil, or MCT Keto Tonic, season with pepper and a little extra salt if needed and enjoy!