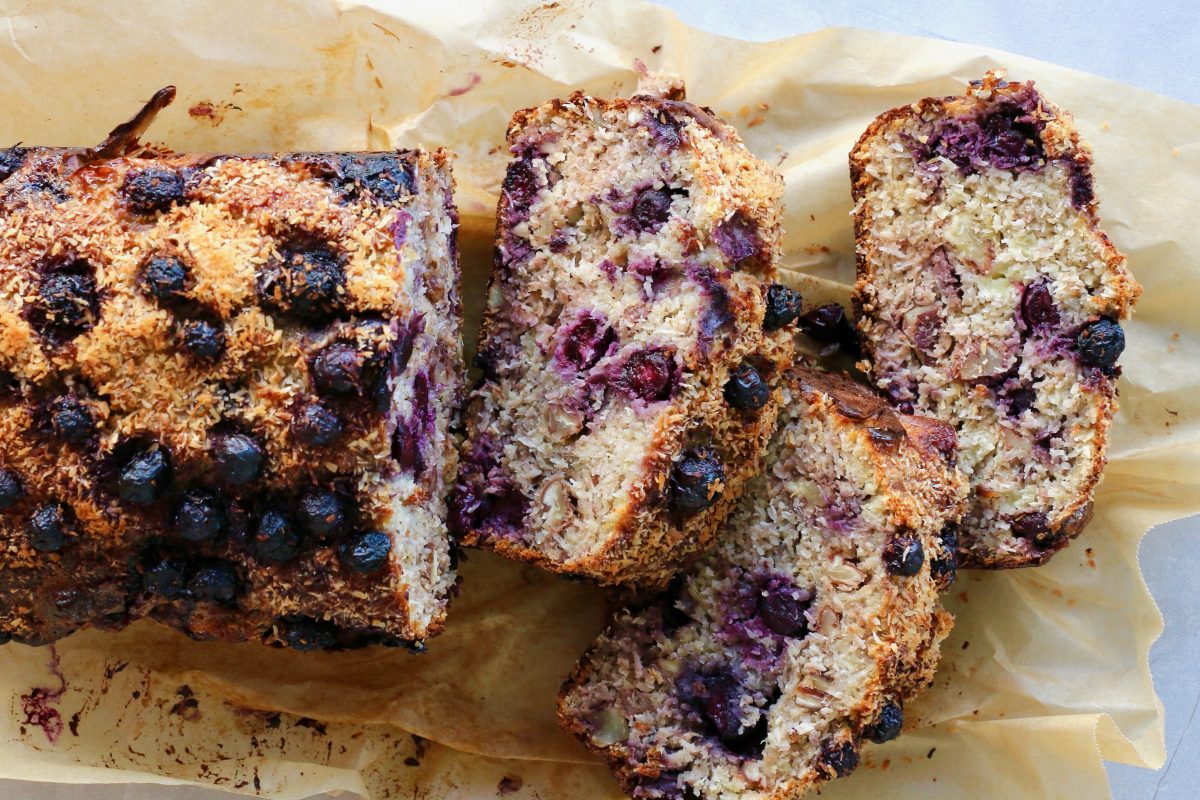 05 Jun

Low Carb Banana & Blueberry Bread

The best healthy fruit bread. Perfect for when you're wanting something a little bit sweet!

Light and fluffy, low carb and delicious! This healthy Banana and Blueberry breakfast bread recipe is full of gut healing fibre, brain-boosting MCT Keto Tonic, loaded with vitamins and minerals, protein and antioxidants – the perfect breakfast or treat without the sugary crash.

This recipe by Luke Hines is so Keto, Paleo, Vegetarian, GF, DF, RSF and nut free too! You can't go wrong.

Makes 1 loaf
Ingredients
---
250g desiccated or shredded coconut
6 free-range eggs
2-3 tablespoons maple syrup or, or 1 teaspoon green leaf stevia
2 tablespoons Luke Hines MCT Keto Tonic

1 teaspoon vanilla bean powder or extract
1 teaspoon baking powder
1 ripe banana, mashed
250g blueberries frozen (or fresh)
Method
---
Preheat your oven to 180C and line a 22 cm loaf tin with baking paper. Put 3/4 of the coconut in a food processor and blitz until it forms a crumbly, flour-like consistency – careful not to over-process as it will turn to coconut butter.
In a large bowl, beat the eggs, maple syrup or stevia, MCTs, vanilla and baking powder together by hand or with a hand mixer for 2-3 minutes, or until well combined. Add the mash banana and stir to combine.
Fold the coconut flour into the egg mixture, then gently fold through the blueberries. Pour the batter into the prepared loaf tin, scatter over the rest of the blueberries and coconut and bake for 40 minutes or until golden brown and cooked through. To test, press down gently on the top of the loaf, if it holds its shape its ready.
Remove the loaf from the oven, turn out of the tin and leave to cool slightly on a wire rack. Slice and enjoy with a generous slather of butter or coconut cream.
Store in an airtight container in the fridge for up to a week, or pre-slice and freeze for up to 1-2 months.