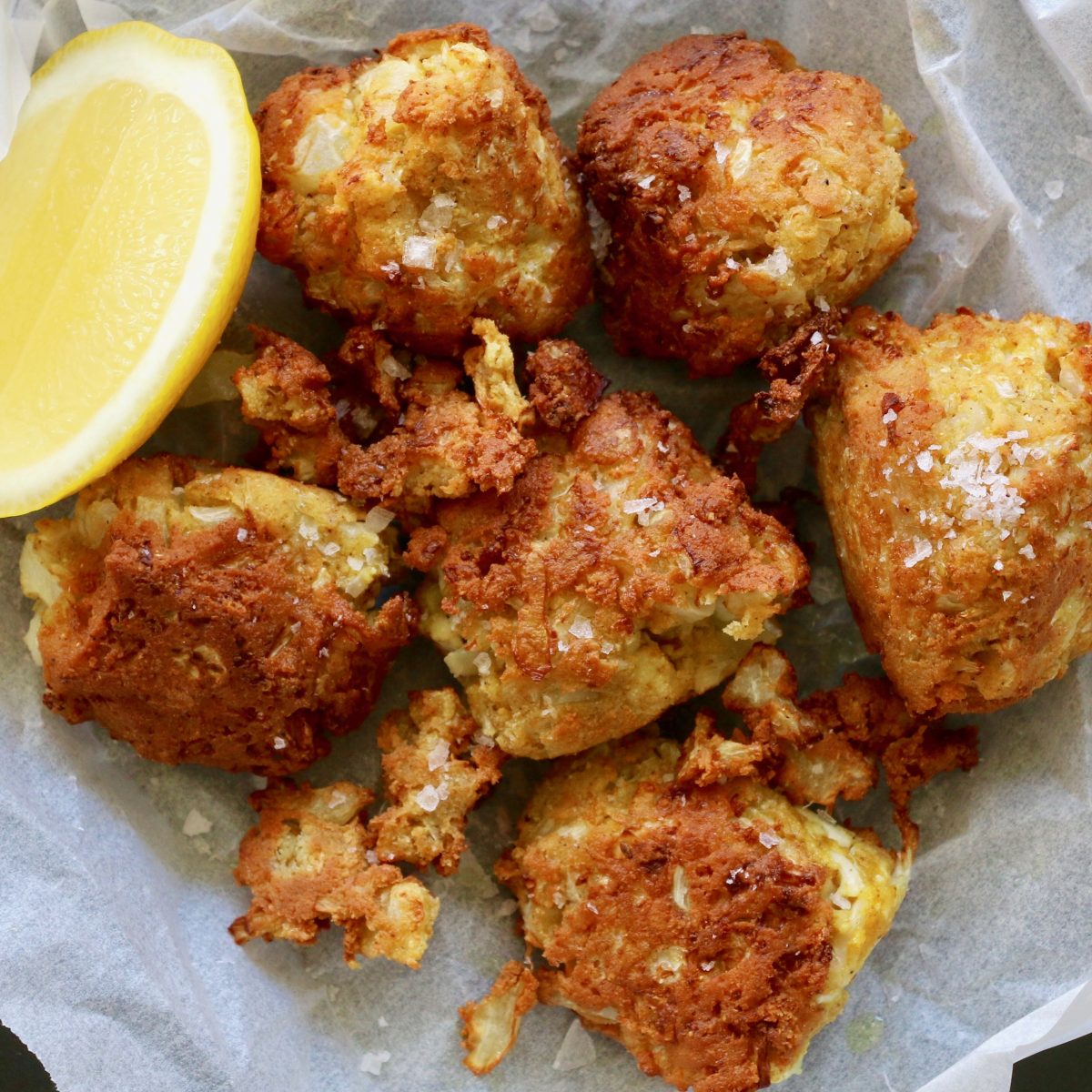 17 Jul

Crispy Keto Cauliflower Gems
Best Low Carb recipe for when you're craving that 'salty treat'!
Move over potato scallops! (or potato cakes, depending which state you're from). These low carb Crispy Keto Cauliflower Gems are so delicious they satisfy the naughtiest of cravings.
Super quick and easy to make and great for sharing. Think crunchy on the outside, hot and juicy on the inside, and totally salty and fried. These morsels of goodness are the best kind of 'treat'!
Low Carb recipe, Keto friendly, Vegetarian and Paleo.
This delicious and health-boosting recipe is by Luke Hines.
Serves 1-2
Ingredients
---
2 cups cauliflower rice
2 free-range eggs whisked
1 tablespoon curry spice mix or favourite spice mix
2 tablespoon coconut flour
1/2 teaspoon baking powder
1/2 cup coconut oil, for shallow frying
fresh lemon wedge, optional
extra-virgin macadamia oil, to drizzle
salt to season
aioli optional, to serve
Method
---
In a bowl, combine your cauliflower rice, egg, spice mix, coconut flour, baking powder and season with salt. Mix until it becomes a lovely thick paste. If your mixture is too wet, add a little more coconut flour till thick enough to hold together, and if too thick to work with and not holding together, add another egg. You'll know the mixture is just right when you can roll into small clusters. 
Using your hands, roll the paste-like mixture into evenly shaped, ping pong sized balls. Preheat a frypan over medium to high heat and add enough coconut oil to shallow fry.
Shallow fry your cauliflower gems, turning every 2-3 minutes, until golden brown on all edges and soft in the middle. Remove from heat and serve alongside a fresh lemon wedge and drizzle with macadamia oil. If you have some on hand, dip them in your favourite aioli!
Share, love and enjoy!
---
You might also like to try Luke's Crispy Zucchini Nuggets – also low carb and keto-friendly!