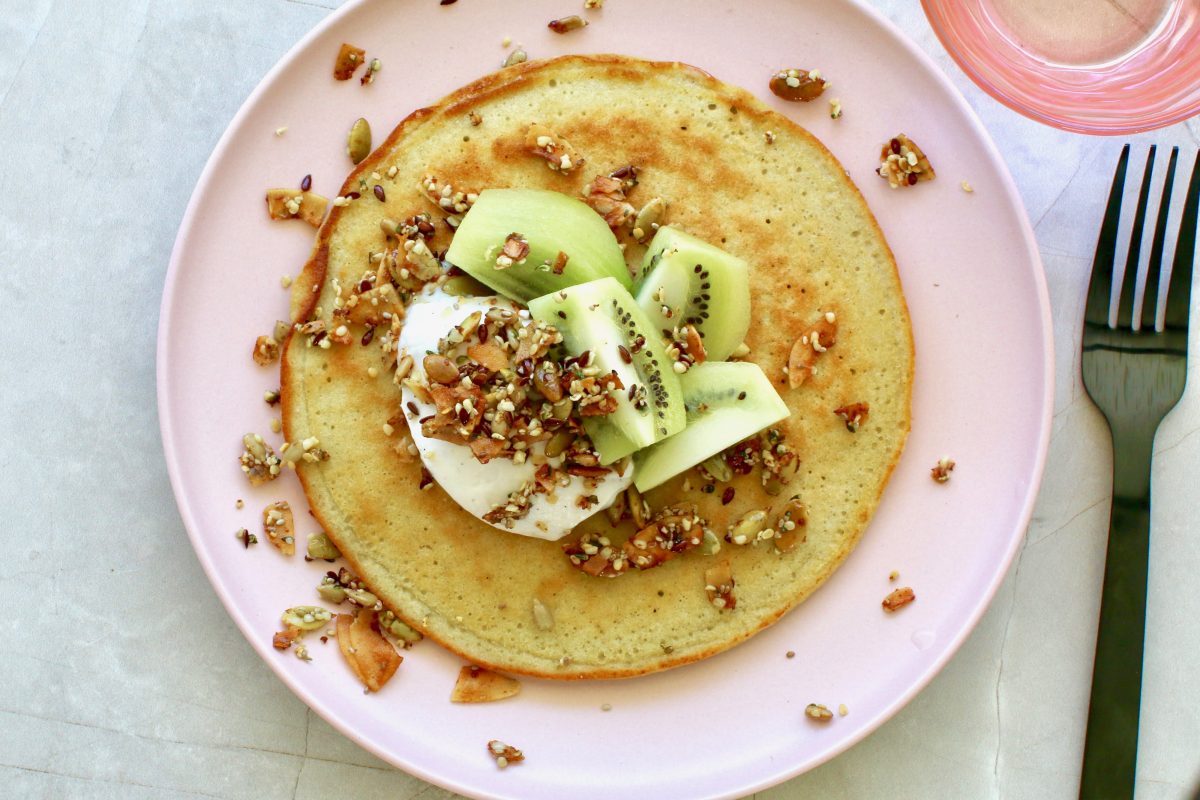 13 May

Low-carb Nut-free Pancakes with Kiwi Crunch

Light, fluffy, low carb and nut free. These pancakes are a healthy, delicious and low inflammatory way to feel like you're having a treat that just so happens to be packed with epic health benefits.

These pancakes are also paleo and KETO friendly, because they are gluten free and refined-sugar free and dairy free, meaning they will energise and satiate you without spiking your blood sugar levels.

You can swap the kiwi fruit for your favourite berries, or simply enjoy the pancakes with unsweetened coconut yogurt and lemon juice.

Serves 1
Ingredients
---
2 free-range eggs, whisked
1 tablespoon coconut flour
1 teaspoon Luke Hines MCT Keto Tonic
1 tablespoon coconut cream
1/8 teaspoon green leaf stevia, optional
1 tablespoon unsweetened coconut yogurt/cream, to serve
1 tablespoon nut-free granola or your favourite seeds, optional
1/2 kiwi fruit sliced
1/2 tablespoon coconut oil, for frying
Method
---
In a bowl, whisk together your eggs, coconut flour, MCT keto tonic and coconut cream. Be sure to combine well and incorporate the coconut flour into all of the wet ingredients. Add your green leaf stevia to taste (optional), it is very strong so a little goes a long way, I recommend 1/8 of a teaspoon per pancake.
Heat your coconut oil in a fry pan over medium heat. Pour your batter into the pan to your preferred size depending on how many pancakes you are cooking, re-greasing the pan between each pancake if need be.
These take a little time to cook so they are lovely and stable to flip, let them cook through to the top, firm around the edges and strong enough to flip. Once firm enough, give them a gentle flip and continue to cook for another 1 minute or so.
Serve your pancakes topped with you coconut yogurt and sprinkle with nut-free granola if using and your sliced kiwi fruit. Feel free to sub the kiwi for some low-fructose berries or a squeeze of lemon juice.
Double the batch to create an incredible brekkie for you and and someone special!