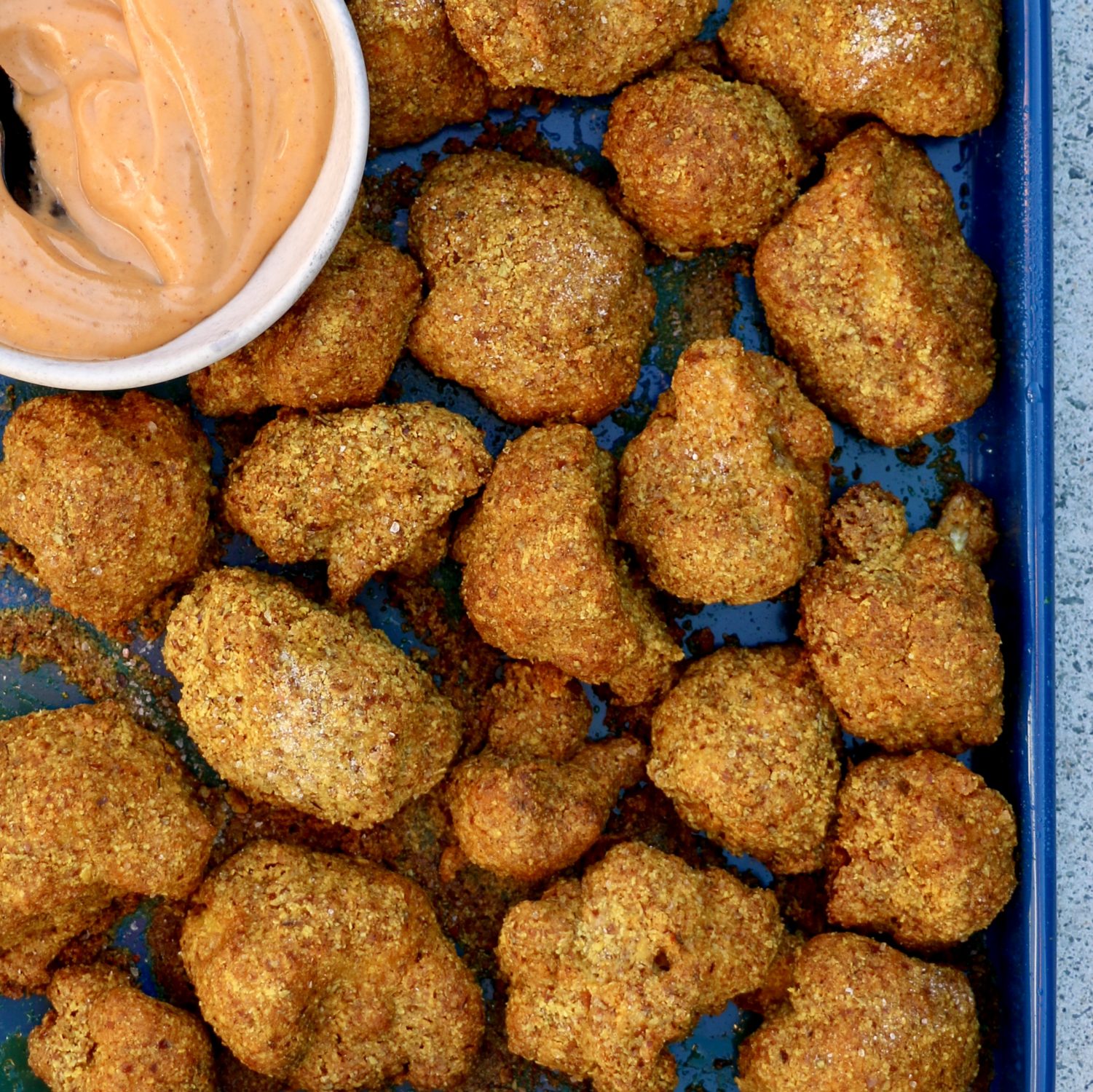 08 Mar

Low Carb Cauliflower Popcorn
This Low Carb Cauliflower Popcorn recipe is the best healthy, salty and savoury treat.
Did someone say Cauliflower Popcorn?? Move over KFC, Cauliflower is the new chicken in these delicious low carb salty morsels of goodness. Theses Low Carb Cauliflower Popcorn are so tasty that if you served them at a kids' party, the little ones wouldn't even know they're eating veggies!
Super quick and easy to make, great for sharing and entertaining or for when you are just in the mood for a crispy salty savoury treat.
This recipe is 100% Vegan and plant-based, Keto friendly, and Paleo.
Another delicious and health-boosting creation by Luke Hines.
Serves 4
Ingredients
---
100g (1 cup) almond meal
750ml (3 cups) coconut cream
125g (1 cup) arrowroot or tapioca flour
1 head cauliflower, cut into bite sized florets
chilli powder, 2 teaspoons
garlic powder, 1 teaspoon
smoked paprika, 2 teaspoons
ground cumin, 2 teaspoons
ground turmeric, 2 teaspoons
Macadamia oil spray for coating and drizzling
sea salt and pepper to season
Method
---
Preheat the oven to 180°C and line a large baking tray with baking paper.
Mix the almond meal, chilli powder, garlic powder, paprika, cumin and turmeric in a large bowl. Then, in a separate large bowl, mix the coconut cream and arrowroot or tapioca flour to make a thick batter.
Dip a cauliflower floret briefly in the coconut cream batter to coat evenly, then toss it in the almond meal mixture. Once coated, transfer to a prepared tray and repeat with the rest of the florets.
When all the florets are ready give them a spray with macadamia oil. Bake for 25–30 minutes, turning halfway and drizzling or re-spraying with oil if you wish, until golden brown and crisp.
Once crisp on all sides, remove the cauliflower popcorn from the oven and season with salt and pepper to taste. Serve alongside my chilli lime aioli or your favourite dipping sauce. 💛
Share, love and enjoy!
---
This recipe is from Luke Hines' cookbook, EAT MORE VEGAN
You might also like to try Luke's Crispy Zucchini Nuggets – also low carb and keto-friendly!