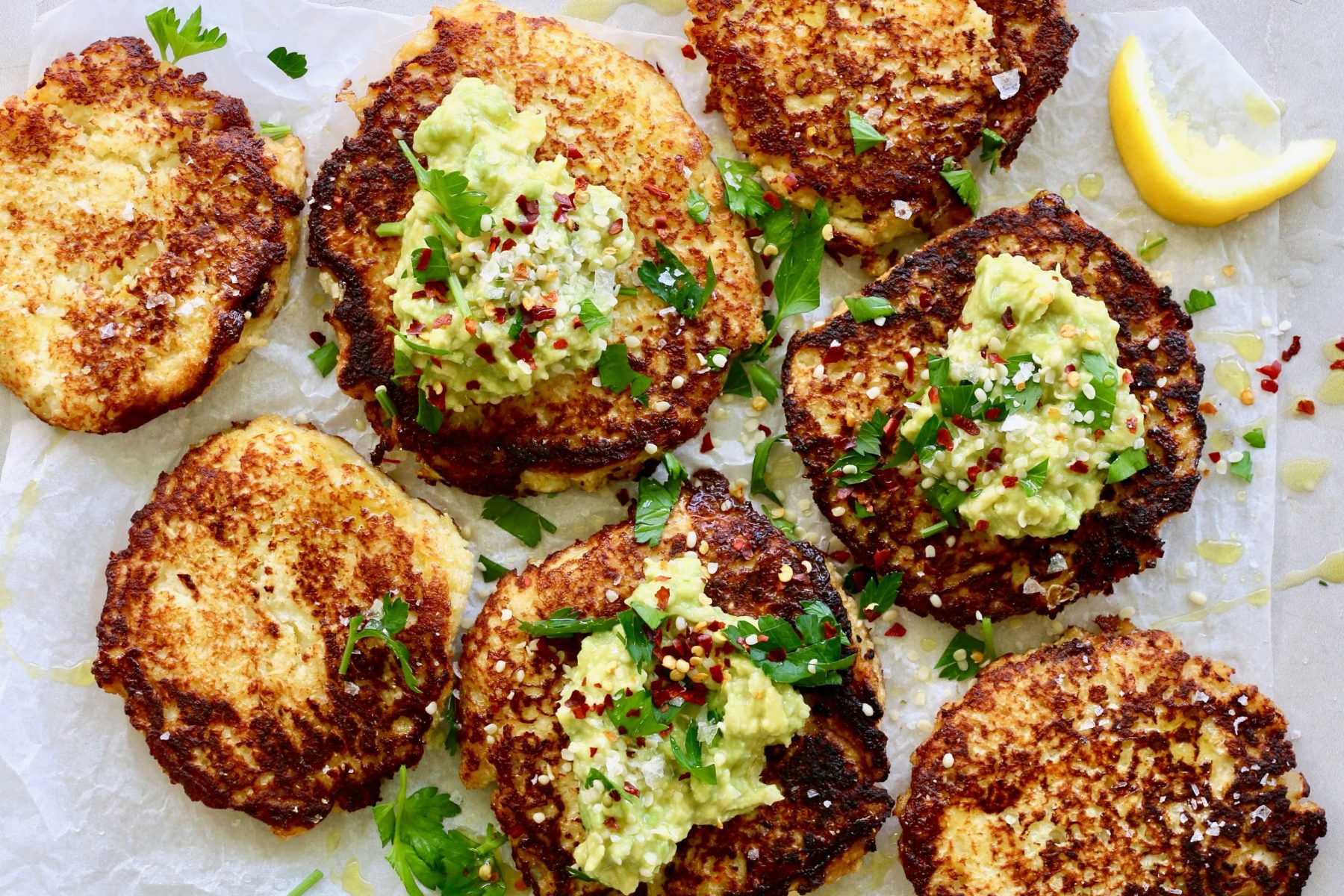 18 Aug

Low Carb Cauliflower Hash Cakes
Low Carb Cauliflower Hash Cakes – the perfect start to your day!
Cauliflower for breakfast?! Yes, please!! These delicious low carb Cauliflower Hash Cakes are so quick and simple to make, and topped with a zesty Chilli Lemon Avocado Smash they'll have you feeling satisfied, energised, and simply amazing all morning.
Think golden brown crispy goodness on the outside and soft and warm in the middle. They are Low Carb, Keto-friendly, Gluten-free and Vegetarian with a vegan option.
This delicious and health-boosting recipe is by Luke Hines.
Serves 2-3
Ingredients
---
1/2 head cauliflower riced
1 free-range egg whisked, or one flax-egg for Vegan (see below)
1/4 cup coconut flour
1/2 cup coconut oil, for shallow frying
1/2 avocado smashed
1 tablespoon lemon juice
1/4 teaspoon dried chilli flakes (optional)
1 teaspoon hemp or sesame seeds (optional)
flat-leaf parsley chopped
avocado oil for drizzling
Method
---
If not done so already, turn your cauliflower into rice by pulsing in a food processor. Add your cauliflower rice into a bowl and add the whisked egg, coconut flour and a generous season of salt. Your mixture should resemble a thick batter. If it is watery or runny, add a little more coconut flour to thicken it up.
Heat your fry pan over medium heat and melt your coconut oil ready to fry your cauliflower hash cakes. Working in small batches, scoop about 1 to 2 tablespoons of batter into the pan, press down gently to flatten them into evenly shaped rounds of similar thickness. Cook them on medium, take your time, you're better to take your time on this first side so they begin to cook through and become strong enough to flip safely.
Once they golden brown on the bottom and they've formed together around the edges, gently flip. Take your time, they can get messy, so patience and a steady hand, but well worth it in the end. Continue like this in batches until they are cooked golden brown on both sides.
Use the back of a fork to mash your avocado with the lemon juice and a pinch of salt. Once you've cooked all of your hash cakes, top with the lemony avocado, sprinkle with chilli flakes, hemp seeds, give them a good drizzle with avocado oil, and pinch of salt.
Share, love and enjoy!
---
How to make FLAX EGGS
To make a flax egg, mix 1 ½ tablespoons flaxseed meal with 3 tablespoons of water in a bowl. Transfer to the fridge and leave for 15–30 minutes, or until the mixture has begun to bind and thicken and is all 'goopy', like an egg. It's as simple as that.