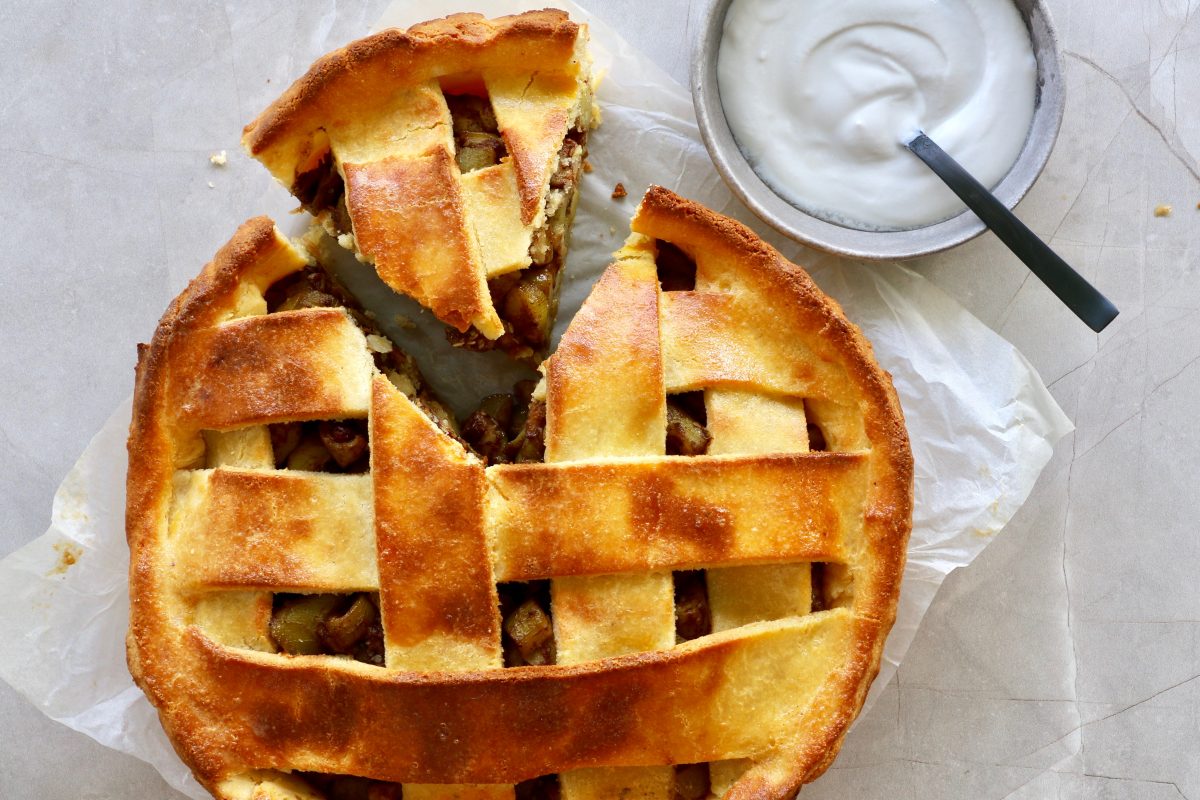 15 Dec

Keto NO-apple Pie

Here's an incredible idea to celebrate a healthy clean and delicious KETO treat this Easter. This is the ultimate gluten-free, refined-sugar-free, low carb, keto and paleo pie – Luke Hines' Keto NO-apple Pie. With not a single apple in-sight, you won't believe your eyes or tastebuds!

We love that this incredible Keto pie celebrates good quality healthy fats, plus its high in fibre and antioxidant rich thanks to the nut-meal base and delicious low-carb veggie filling. This Keto NO-apple Pie is sure to impress whilst help to manage your blood sugar and energy levels and keeping you feeling fuller for longer!

As always, this recipe is Low Carb Keto, Paleo, gluten free, and refined sugar free.

Enjoy and HAPPY EASTER!! 🐣

Serves 6-10
Ingredients
---
1/4 cup coconut oil
2000g zucchini, peeled and diced
1 1/2 tablespoons ground cinnamon
2 teaspoons ground nutmeg
1 teaspoon ground ginger
1/4 teaspoon ground all-spice
1 cup erythritol (for Keto) or maple syrup (for paleo)
2/3 cup lemon juice
1 cup coconut cream or coconut yogurt, to serve
For the Flakey Keto Pastry
2 cups almond flour
2/3 cup coconut flour
1 teaspoon xantham gum
1 teaspoon salt
1 teaspoon lemon zest (optional)
300g grass-fed butter, unsalted
1 free-range egg, lightly whisked
1 tablespoon apple-cider vinegar
egg wash, optional for shiny pastry
Method
---
For the Keto Pie Crust, combine the almond flour, coconut flour, xanthan gum, salt and zest (optional) to a food processor and pulse until evenly combined. Add the melted butter and pulse for just a few seconds until crumbly. Add in egg and vinegar and pulse until the dough just begins to come together (but stop before it forms into a ball, make sure not to over-process the dough. The mixture ought to resemble coarse breadcrumbs rather than cookie dough. Divine the dough and turn out onto cling film and pat each half into a circle. Refrigerate for at least one hour.
For the burnt butter 'apple', heat up the coconut oil in a large saucepan or casserole dish over medium/low heat. Continue to simmer the butter, stirring once in a while, until fully browned (about 4-6 minutes). Add in the zucchini, spices, salt and mix everything together. Add in the lower amounts of sweetener and lemon juice, cover, lower heat to low, and let simmer for 15 minutes. Remove lid and taste for sweetness and acidity; you'll most likely need to add more of both (don't be afraid of the lemon juice, as it's acidity is what will give it that apple kick once it's thoroughly absorbed). Cover once again and cook for 10 more minutes. Remove the lid, taste again, and allow to cook uncovered for 15-20 minutes longer to thicken up the juices. Allow to cool completely before filling up the pie.
To assemble the pie, preheat your oven to 200C and lightly butter a 9 inch pie pan. Roll out 1 batch of pie crust into a roughly 13-inch circle, between two sheets of parchment paper. Feel free to lightly dust with coconut flour if needed. Transfer to the pie dish, using the parchment paper as an aid. Refrigerate while you prepare the rest. Roll out the second pie crust and trim to desired width for lattice (roughly 1 1/2 inch).
Take your pie dish out of the fridge, fill up with chilled 'applezucchini' and weave the lattice, crimping the edges to seal. You'll have leftover pie crust, which you can bake into simple delicious crackers. Brush with egg wash and bake for 15 minutes. To get a shiny finish, take your pie out of the oven and brush it quickly and lightly again with more egg wash. Return to oven and bake until fully golden. Allow to cool completely to allow the filling to set or try a slice lightly warm after roughly 20 mins.
Serve with coconut yogurt or cream, share with family and friends and enjoy!