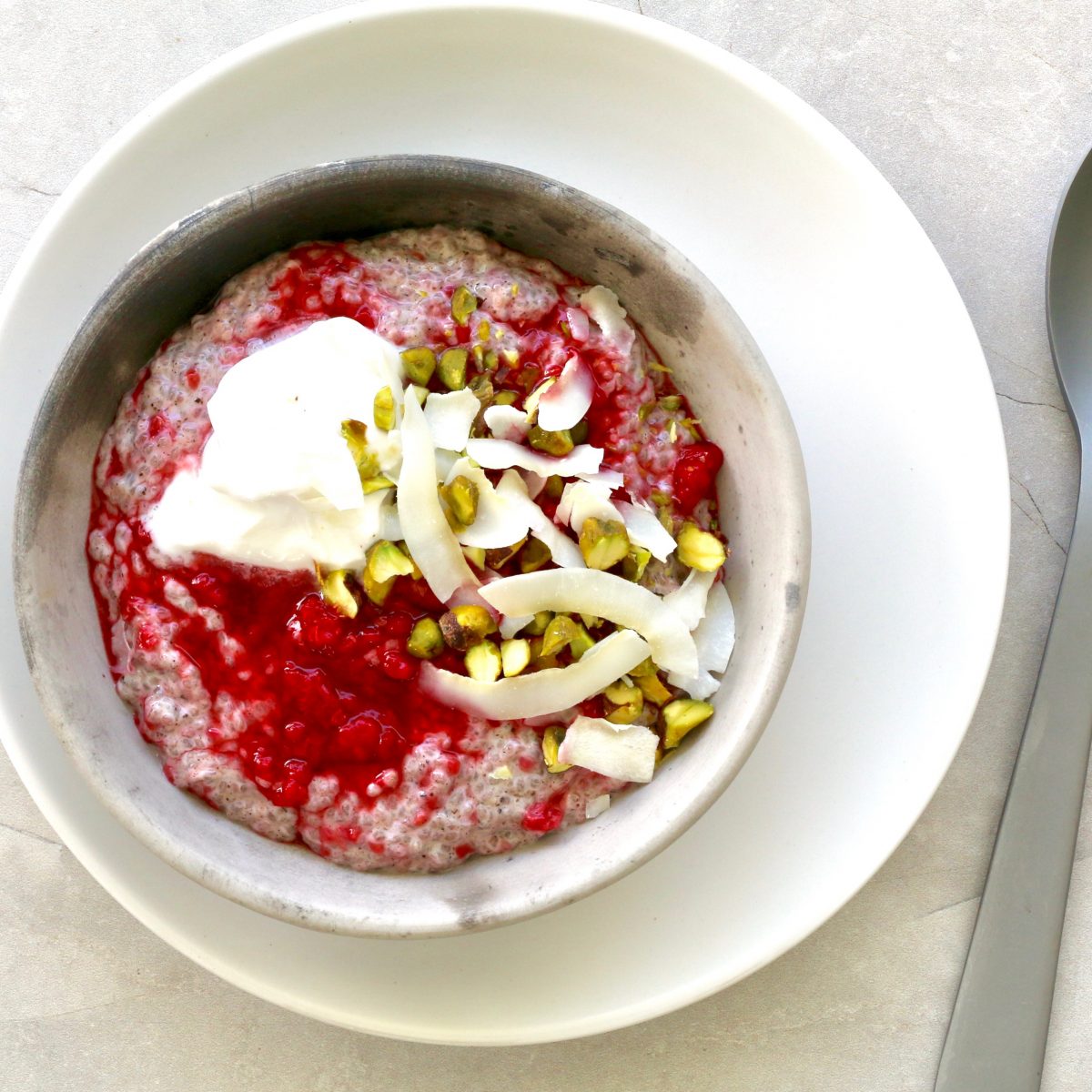 02 Jul

Raspberry & Pistachio Chia Pudding

A Keto breakfast that is slightly sweet, packed with omega 3 goodness, brain-boosting MCTs and antioxidants. It's cleansing and simply delicious.

Chia seeds are fantastic for cleansing our digestive system as they are high in fibre. This yummy low-carb combo of coconut cream and raspberries will have you feeling fantastic all day!

Quick and easy, can be made the night before or in bulk. Beautiful slightly warmed or enjoyed cold.

Last up to a week in the fridge.

Keto breakfast or snack, Vegan, Plant-based and Paleo.

This delicious and health-boosting recipe is by Luke Hines.

Serves 4
Ingredients
---
2 cups coconut cream or milk (or 2 small tins)
8 tablespoons chia seeds
1 tablespoon MCT Keto Tonic
1/4 cup(s) raspberries fresh or frozen thawed
1-2 teaspoons vanilla bean, powder or extract (optional)
Stevia, or sweetener to taste, optional
Toppings
coconut yogurt, unsweetened, to serve
MCT Keto Tonic, to drizzle
pistachios, chopped
desiccated coconut
Mix and match, or choose any of your favourite toppings!
Method
---
Place the coconut milk, chia seeds and vanilla in a small bowl and stir well to combine. Set aside for 10 minutes (or overnight) for the seeds to rehydrate and swell until the pudding thickens. If too thick, add a small amount of water or more tinned coconut cream or milk.
Mash the raspberries in a bowl to make a pulp. Sweeten with stevia or other (optional), to taste. Once the pudding has thickened to your liking, add half of the raspberry mixture and stir through to create a ripple effect.
If warming, add a little coconut oil to a small saucepan to grease before adding your serving size. Heat on low-medium for a few minutes or until at your desired temperature.
Pour into a serving bowl or glass. Top with coconut yogurt, an extra drizzle of MCT Keto Tonic, add the remaining muddled raspberries and sprinkle with pistachios and desiccated coconut.
If making in bulk, store the chia mixture in an airtight container without toppings for up to a week in the fridge. Add your toppings just before servings.
Live, love and enjoy!