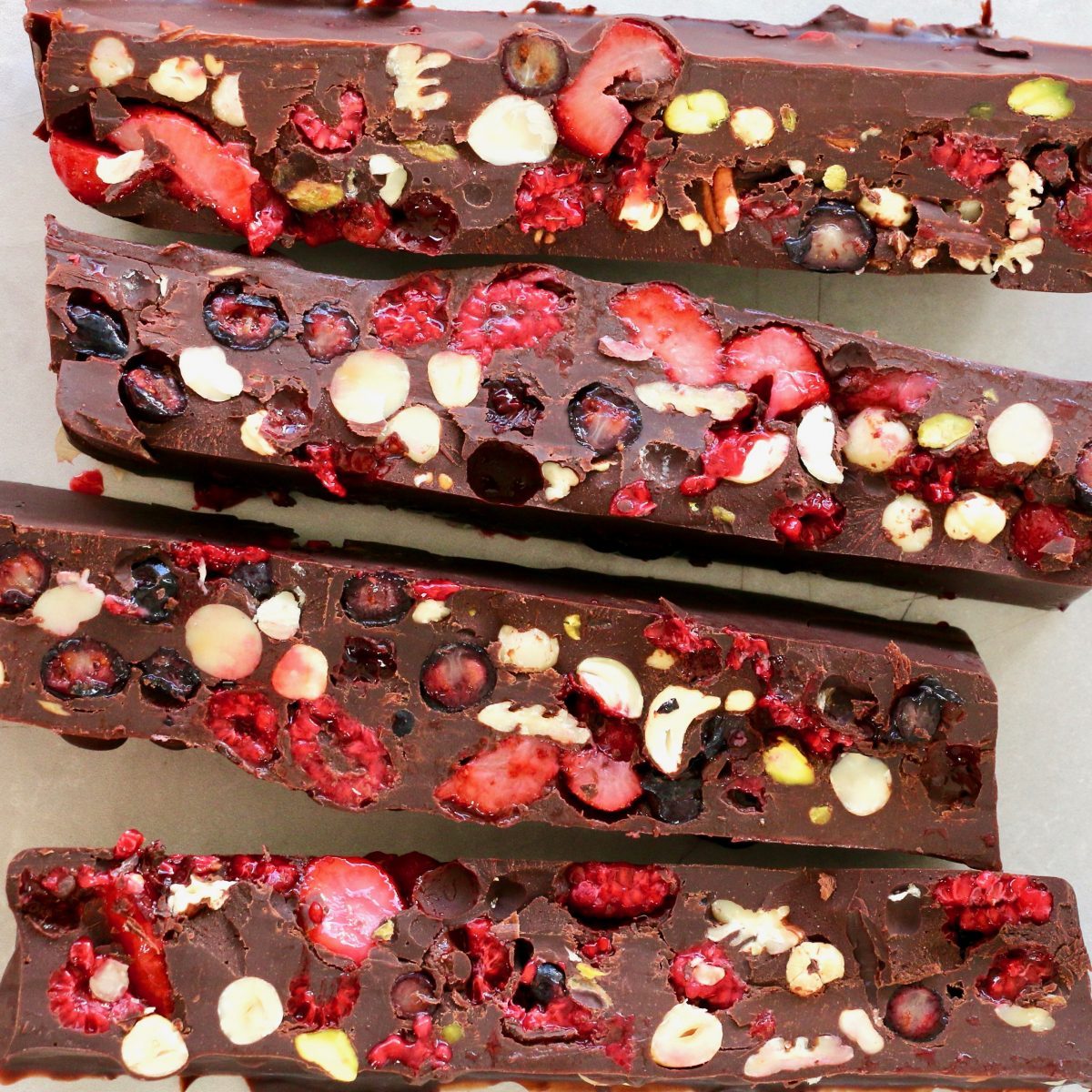 03 Apr

Mixed Berry Rocky Road
Healthy Keto Mixed Berry Rocky Road
This healthy keto snack packs a punch, with an abundance of colourful and flavoursome berries, and dark chocolate combined with toasted nuts and seeds.
So quick and simple to make, and loaded with benefits like antioxidants, healthy fats, and all-important magnesium.
Low Carb, Keto, Sugar-free and Vegan.
This delicious and healthy keto recipe is by Luke Hines, from his new best selling cookbook Eat More Vegan.
Serves 12-18
Ingredients
---
1 cup raw cacao powder
1/2 cup raw cacao butter
1/2 cup organic coconut oil
2 cups mixed nuts and/or seeds, toasted (we love macadamias, pecans and pistachios)
1 cup organic berries (we love using frozen mixed berries)
Method
---
Get started by melting down your cacao butter and coconut oil in a saucepan over very low heat. You can use a good quality store-bought dark chocolate if preferred, aim for one with a cocoa content of around 85% or more.
(optional) In a dry fry-pan over medium heat, add your nuts and toast them, tossing frequently so they do not burn. Once they become aromatic and lightly golden brown, after about 3 to 4 minutes, remove from the heat and set aside to cool slightly.
Line a small brownie pan or square cake tin with baking paper and then add half of your berries. Pour in half of the melted chocolate, then add your mixed nuts and seeds. Pour the remaining half of your chocolate over the top, making sure you get even coverage and then and the rest of your berries and press them into the chocolate slightly.
Transfer to your freezer and allow it to set completely for about 30 to 45 minutes before slicing with a warm knife and serving in generous chunks. Enjoy.
Share, love and enjoy!
---