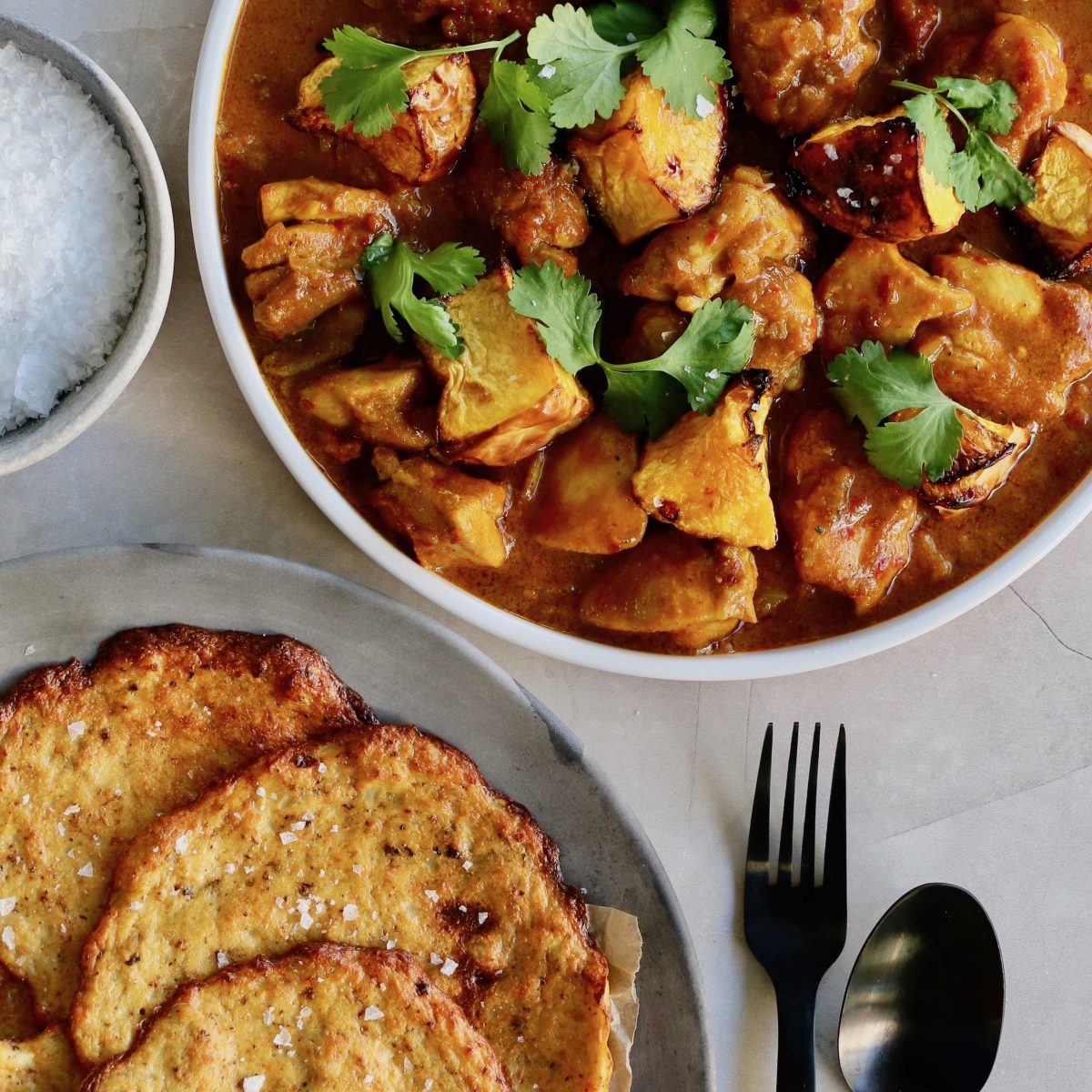 02 Feb

Healthy Butter Chicken with Macadamia Roast Pumpkin
Healthy Butter Chicken with Macadamia Roast Pumpkin
A healthy, gluten-free and dairy-free take on the classic Butter Chicken. The addition of the slightly sweet butternut pumpkin roasted in macadamia oil elevates the flavours of this delicious dish to the next level! 
When paired with gluten-free homemade Crispy Coconut Tortillas, it's a health-loaded heaven on a plate! The whole recipe is so quick and easy to make and the leftovers are even better the next day for lunch.
Recipe by the talented Luke Hines.
Serves 1. Simply multiply the recipe to serve the whole family!
Ingredients
---
150g chicken thigh, or tofu roughly diced
1/2 tablespoon 'Incredible' coconut oil for frying
1 long red chilli finely diced
1 garlic cloves finely diced
1/4 brown onion finely diced
1/4 cup coconut milk or cream tinned
1/4 cup bone broth or vegetable stock
1/2 cup butternut pumpkin diced small
Macadamia Oil Spray, for roasting
handful fresh coriander to garnish, optional
salt + pepper  to season
Dressing
1/4 teaspoon garam masala
1/4 teaspoon ground cumin
1/4 teaspoon ground coriander
1/4 teaspoon ground turmeric
1/4 teaspoon hot chilli powder, optional
Method
---
Preheat your oven to 200C and line a baking tray with baking paper. Place your diced pumpkin on the tray, drizzle with Macadamia Oil Spray and place in the oven to roast until soft in the middle and golden brown on the outside. My tip is to keep your pumpkin small so it cooks quicker.
Meanwhile, heat your fry pan over medium heat and add the coconut oil ready for frying. Throw in your garlic, onion and chilli, sautéing for 3-4 minutes until softened and caramelised. Now add in the chicken and brown on all sides, getting a lovely caramelisation on all sides to bring out the flavour.
Sprinkle over the spice mix, stir to combine, pour in the coconut cream and broth, bring to the boil then reduce to a simmer. Simmer your sauce until the chicken is cooked through and you achieve your desired consistency of thickness in the sauce. I simmer mine until its thick and creamy.
Once your pumpkin is lovely and cooked, add it into your cooked butter chicken and serve garnished with fresh coriander, and a good seasoning of salt and cracked pepper.
Serve and enjoy!
---