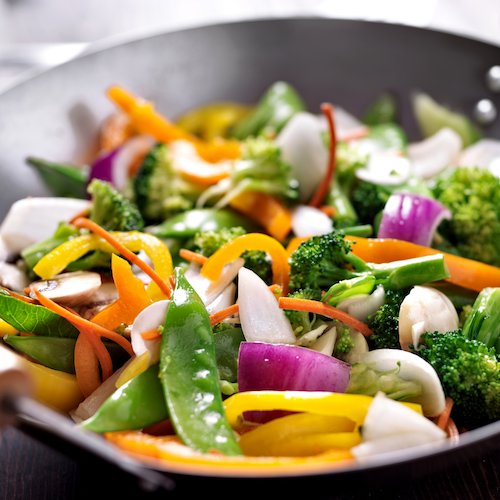 12 Nov

Healthy Asian Veggie Stirfry
Healthy Asian Veggie Stir-fry
This healthy Asian veggie stir-fry is so fresh and easy. Quickly pan fried in high-heat stable coconut oil to keep the veggies crisp and delicious.
The best part is, you can use any veggies you like!
The recipe is gluten-free, dairy-free, vegan and so quick and easy.
Serves 2. Simply multiply the recipe to serve the whole family.
Ingredients
---
Cocolife non-aerosol coconut oil spray
1 medium carrot, peeled and thinly sliced
1/2 head broccoli, broken into small florets
small yellow capsicum, thinly sliced
1 cup snow peas, ends removed
small red onion, roughly chopped
1 cup mushrooms, chopped
2 cloves garlic, finely diced
1/4 cup vegetable broth or water 
2 tablespoons tamari or fish sauce
2 tablespoons honey
sea salt and freshly ground black pepper
Method
---
Generously spray your wok or frying pan and heat to mediam-high.
Add your carrot, broccoli, capsicum and mushrooms and cook for 4 minutes or until just softened.
Add your snow peas along with your garlic, vegetable broth or water, tamari (or fish sauce) and honey and cook for an additional 3-5 minutes or until vegetables become tender and the water has mostly cooked off.
Serve immediately, over rice if desired, season with a little salt and pepper and enjoy!.
---