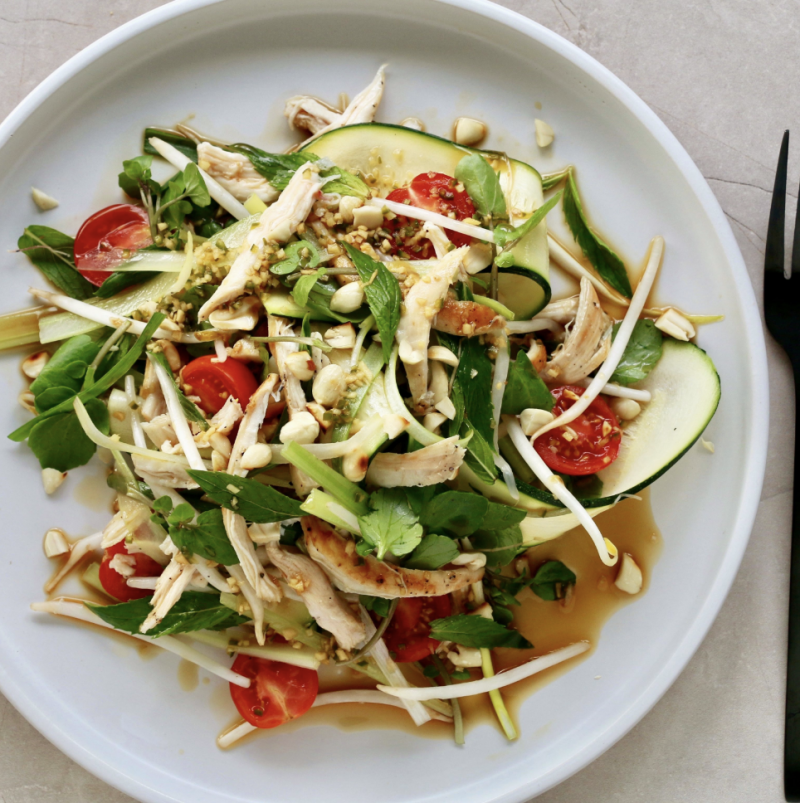 20 Jan

Healthy Asian Style Chicken 'Noodle' Salad
Healthy Asian Style Chicken 'Noodle' Salad
This vibrant healthy Asian Style Chicken 'Noodle' Salad is sensational! So fresh and crisp and bursting with flavour, slightly sweet, slightly salty and packed with fibre, vitamins and minerals and antioxidants.
Perfect for a warm Summer's night, and we always love to make extra for a delicious lunch tomorrow! Done with the Cocolife twist, we've drizzled our delicious pure avocado oil spray.
The recipe is gluten-free, dairy-free, low-carb and simply amazing! Created by the talented Luke Hines.
Serves 1. Simply multiply the recipe to serve the whole family!
Ingredients
---
free-range chicken breast, or 150g tofu
1/2 tablespoon coconut oil for frying
1/2 zucchini
1/2 cup watercress
1 celery sticks, diced
1/2 cup bean shoots or sprouts
4 cherry tomatoes, halved
1 spring onions, finely diced
1 handful fresh coriander or parsley
1 handful fresh mint leaves, optional
1 tablespoon chopped peanuts, or hemp or chia seeds
Cocolife non-aerosol avocado oil spray, for drizzling
Salt + pepper to season
Dressing
1 tablespoon coconut aminos
1 teaspoon fish sauce, sugar free
1 tablespoon lime juice
1 teaspoon fresh ginger, finely diced
1/4 long green or red chilli, finely chopped
salt and pepper to season
Method
---
Heat a frying pan over medium to high heat and add melt your coconut oil. Season your chicken with salt and pepper and fry your chicken for 5 minutes on both/all sides and ensure cooked through. Once cooked, wrap your chicken in foil to rest and keep warm and moist.
To prepare the salad, slice or use a mandoline to create ribbons from your zucchini and add it to a mixing bowl. Then add your watercress, celery, bean shoots or sprouts, cherry tomatoes, spring onion, mint, coriander and peanuts and toss to combine.
To make the dressing, mix all the ingredients together in a small bowl.
Dice your chicken and mix it into the salad, then add the dressing and avocado oil mix to coat well. Serve and enjoy!
---