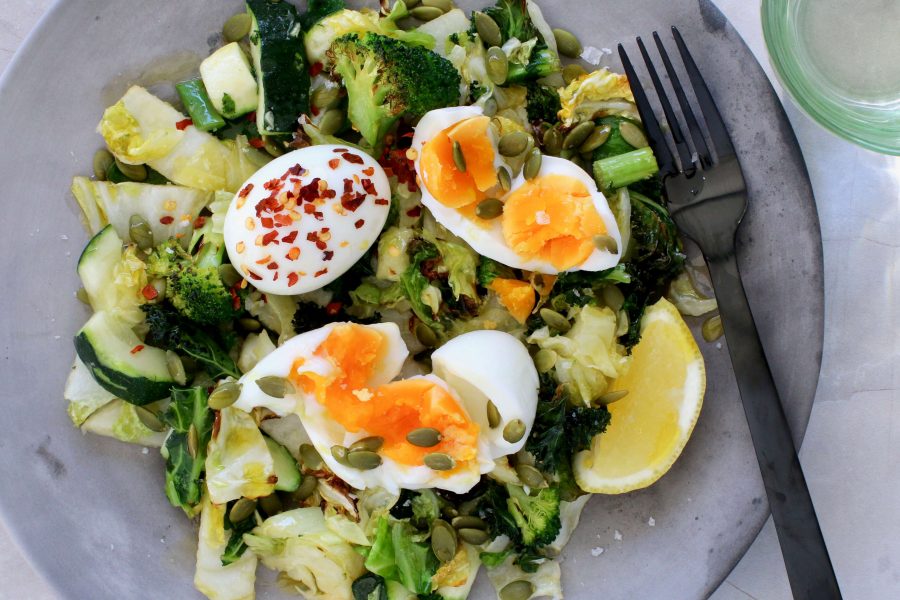 04 Mar

Grown and Gathered Brekkie Bowl

From garden grown green vegetables to gathered fresh free-range eggs, this is one light and delightful breakfast. Keto, Low Carb Vegetarian, Vegan option, with MCTs for energy and packed with fibre, antioxidants and phytonutrients.
Ingredients
---
2 cups mixed green vegetables, we used broccoli, asparagus, green cabbage, wombok, zucchini
1/2 tablespoon Incredible Coconut Oil for frying
2 free-range eggs boiled
(swap for 1/2 cup cashews to make Vegan)
1 teaspoon MCT Keto Tonic
1 teaspoon lemon juice optional
pinch chilli flakes to garnish (optional)
salt and pepper to season
Avocado Oil to drizzle
Method
---
Heat your fry pan over medium heat, melt the coconut oil and gently sauté your mixed green vegetables until golden brown on the outside and softened through. its nice to have a little bit left in them for things like asparagus and broccoli.
Meanwhile, boil your eggs to your preferred readiness from soft to hard boiled. Peel and set aside.
Serve your boiled eggs on top of your freshly sautéed greens, drizzle your MCTs, give a generous squeeze of lemon juice, season with salt and pepper and dress with avocado oil.
Enjoy!