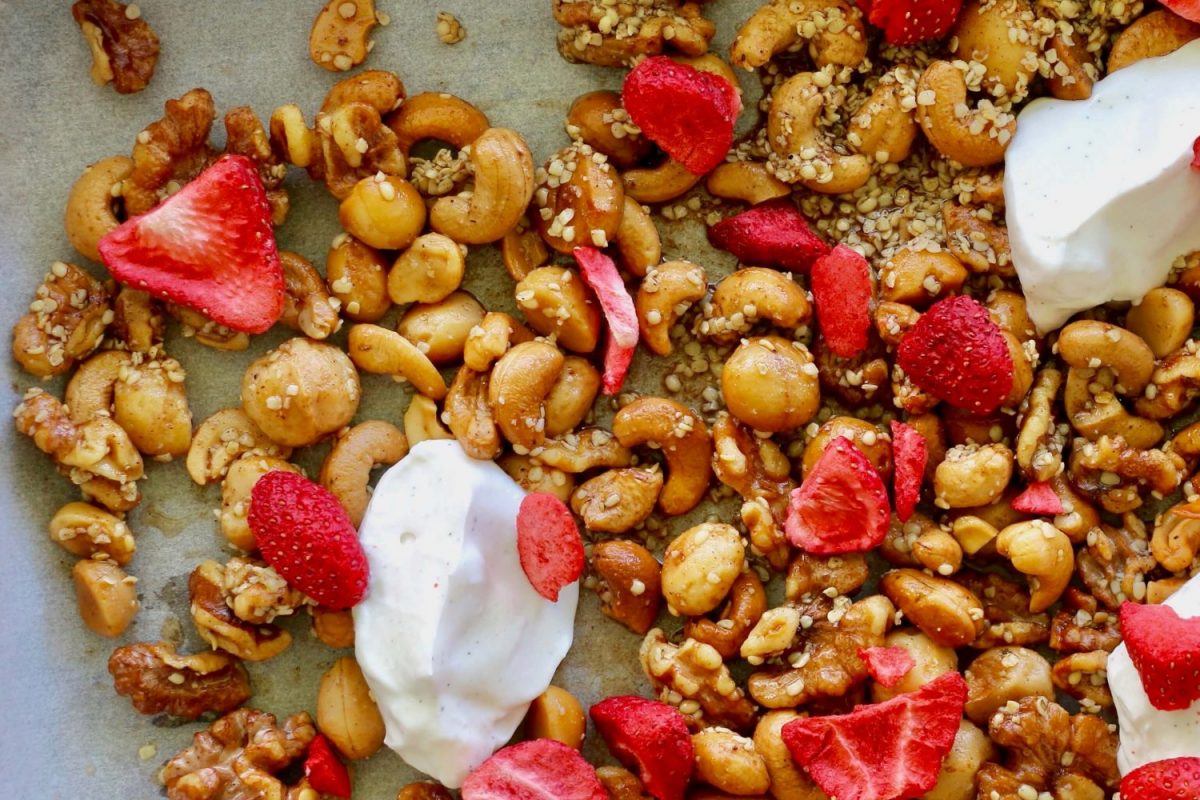 18 Sep

Gorgeous Gluten-free Granola
A Keto breakfast that ticks all the boxes!
For those mornings when you need something quick, easy and most of all delicious! This gorgeous gluten-free granola is an easy keto breakfast packed with nutrient-dense low-inflammatory nuts and seeds, high in the right kind of energy with pure MCTs, a good source of fibre and topped and roasted in warming immunity boosting spices that take it all to the next level.
It will have you going all morning! This recipe is Low Carb, Keto-friendly, Gluten-free and Vegan.
This delicious and health-boosting recipe is by Luke Hines.
Serves 4-6
Ingredients
---
1/2 cup raw cashews, whole or roughly chopped
1/2 cup raw macadamia nuts, whole or roughly chopped
1/2 cup raw pecans, whole or roughly chopped
1/2 cup raw walnuts, whole or roughly chopped
1/4 cup hemp or sesame seeds
2 tablespoons MCT Keto Tonic
1 1/2 teaspoon ground cinnamon (avoid cassia)
1 teaspoon ground nutmeg
1/2 teaspoon ground ginger
1/2 teaspoon all-spice
1/2 teaspoon vanilla bean, seeds, powder or essence
Suggested Toppings
Macadamia oil for drizzling
1-2 tablespoons coconut yoghurt or cream
1/4 cup berries, fresh or freeze-dried
Method
---
Recipe Notes: – For Nut Free, swap the nuts out for your favourite seeds and/or shredded coconut. – For a finer granola, roughly chop your nuts before combining them with the spice mixture.
Preheat your oven to 160C and line a baking tray with baking paper. In a bowl, combine your nuts, hemp seeds, spices, vanilla bean and MCT keto tonic. Using your hands, massage all of the flavours together well. If you're not low carb, you're welcome to add a dash of maple or honey at this stage.
Spread your mixture across your baking tray evenly, place in the oven and cook for 10 to 15 minutes or until lightly roasted. Be careful not to burn your nuts, I always recommend watching them as you go as oven temperatures can vary.
Once your granola mix is cool enough to eat, you can transfer to an airtight container for storage or serve up with a drizzle of Macadamia oil, coconut cream, coconut yogurt, or fresh, frozen or freeze-dried berries.
Share, love and enjoy!
---
More Recipes
For delicious and healthy plant-based oils that 100% pure and chemical-free, check out our store.
And for more delicious recipes like this, head to Luke Hines 10!