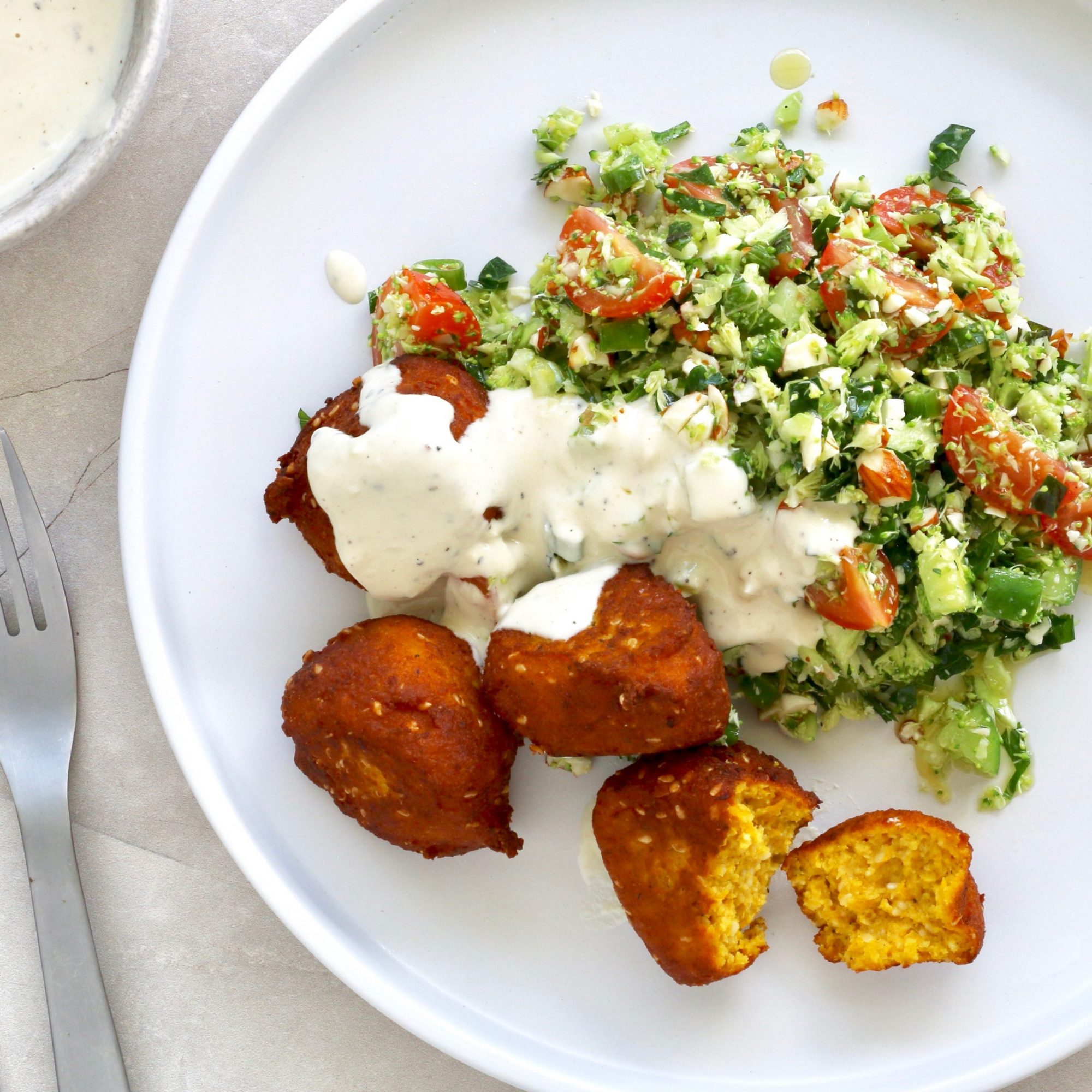 12 Jan

Gluten-free Falafel with Broccoli Tabouli
Gluten-free Falafel with Broccoli Tabouli
Healthy-fying Falafel! This delicious gluten-free Falafel with Broccoli Tabouli is so easy, healthy, crispy and delicious! You can't get much yummier than this.
These Pan-fried, low-carb Falafel are crispy on the outside and soft on the inside, paired with a healthy vibrant tabouli drizzled in our beautiful avocado oil spray.
The recipe is gluten-free, dairy-free, low-carb and simply amazing! Created by the talented Luke Hines.
Serves 1. Simply multiply the recipe to serve the whole family, or to take along to a summer celebration!
Ingredients
---
150g pumpkin grated
1 egg, free-range
1 cup almond meal or hemp flour
1 tablespoon sesame seeds
1 teaspoon chia seeds
1/2 teaspoon ground cumin
1/2 teaspoon ground coriander
1/2 teaspoon salt
1/2 teaspoon black pepper optional
1/2 cup coconut oil for shallow frying
Cocolife non-aerosol avocado oil spray
Tahini Dressing
2 tablespoons tahini
2 tablespoons hot water
1 tablespoon lemon juice or apple cider vinegar
1/2 garlic clove finely diced
salt and pepper to season
Method
---
Steam the pumpkin for 5 minutes, or until tender. Place into a bowl and mash with a fork, then add the egg, almond meal, sesame seeds, spices, salt and pepper and mix well. Refrigerate for 15 minutes, to firm up slightly.
Meanwhile make the tahini dressing by combining the tahini, water, lemon juice, garlic and vinegar in a small bowl and stir well. Season with salt and pepper.
When you are ready to fry the falafel, heat the coconut oil in a frying pan over medium heat. Using a tablespoon, scoop out your falafels and gently place them in the heated oil to shallow-fry, turning often for 4-5 minutes, until golden brown and heated through. Best done in batches so you don't overcrowd the pan.
Serve falafels with broccoli and tabouli and tahini dressing, drizzle with avocado oil for added goodness and enjoy!
---