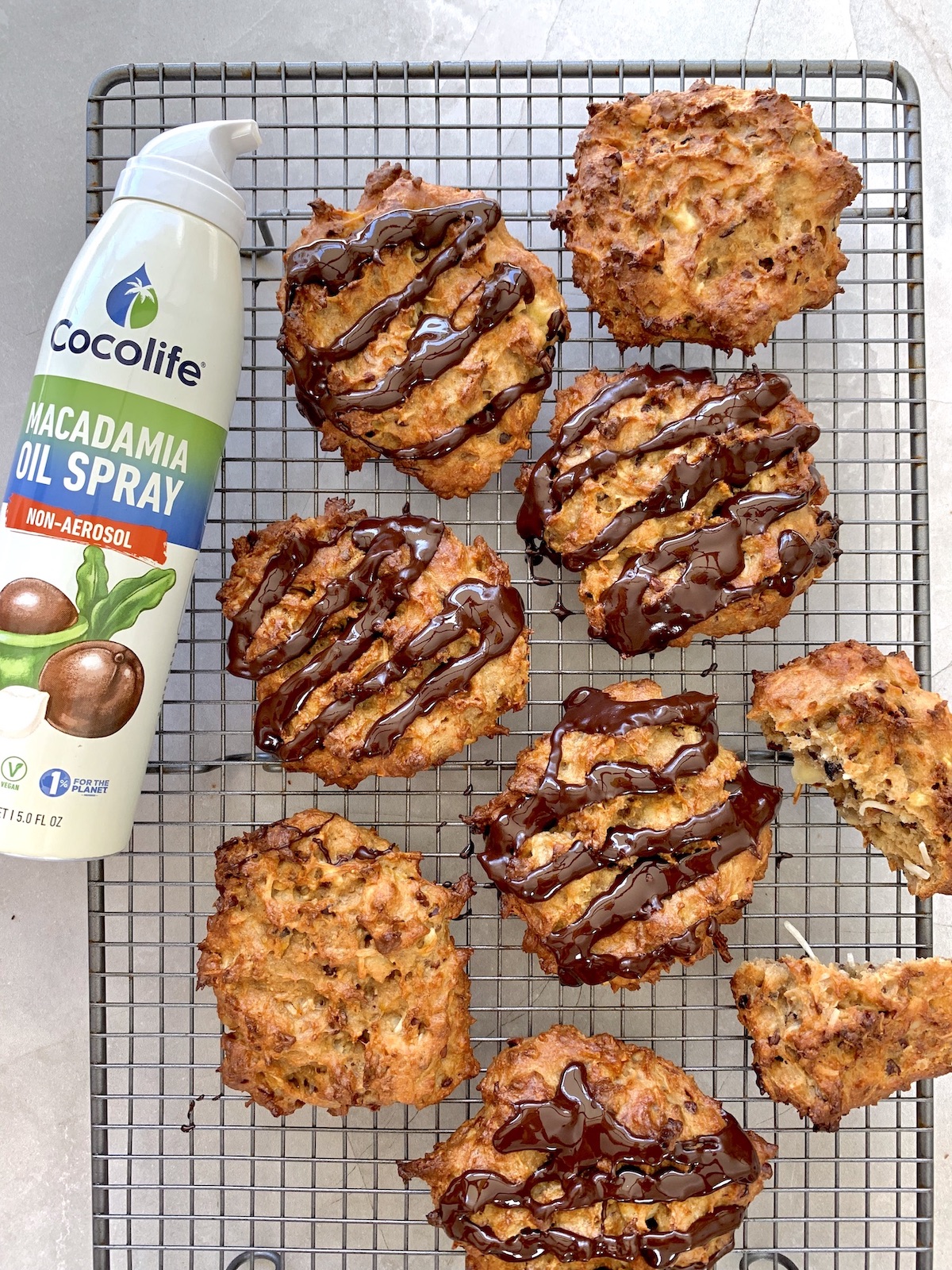 04 Dec

Banana + Peanut Butter Gluten-free Cookies
Banana + Peanut Butter Gluten-free Cookies
These prebiotic gut-loving Banana + Peanut Butter Gluten-free Cookies by the talented Luke Hines are the perfect healthy snack or grab-and-go breakfast.
There is so much to love about these beauties! Packed with healthy staples Like bananas walnuts and coconut, all topped with heart healthy and delicious macadamia oil.
The best part is that all you need to do is throw everything into one bowl, then mix, bake and enjoy!
They will ship for several days in an airtight container or up to 7-10 days in the fridge, making them perfect to batch bake and have on hand for the week ahead.
The recipe is gluten-free, dairy-free, vegan and so quick and easy to make.
Makes 12 cookies.
Ingredients
---
2 ripe bananas, sliced
125 g (½cup) crunchy peanut butter
3 tablespoons filtered water
1 teaspoon vanilla bean paste or powder
100 g (1 cup) banana flour or almond meal
1 teaspoon gluten-free baking powder
1 teaspoon ground cinnamon
½ teaspoon sea salt
3 tablespoons cacao nibs or roughly chopped chocolate
3 tablespoons shredded coconut
3 tablespoons roughly chopped pecans or walnuts
3 tablespoons roughly chopped macadamia nuts
Cocolife non-aerosol Macadamia oil spray, for drizzling
Extra chocolate (melted) or peanut butter, for drizzling (optional)
Method
---
Preheat the oven to 180°C and line a baking tray with baking paper and give it a gentle spray of Macadamia oil.
Add the banana, peanut butter, water and vanilla to a large bowl and beat with an electric whisk or whiz with a hand-held blender until mostly smooth. Then add in the almond meal, baking powder, cinnamon and salt and beat again until really well combined.
Using a spoon, gently fold in the cacao nibs or chopped chocolate, shredded coconut and nuts.
Dollop the sticky dough into 12 equal mounds on the prepared trays and use the back of a spoon or fork to gentle flatten. Then place in the oven and bake for 15–18 minutes, or until the bottoms are firm and the edges are golden.
Remove the cookies from the oven and leave them to cool slightly on the tray. Drizzle with Macadamia oil and some extra peanut butter and enjoy!
---