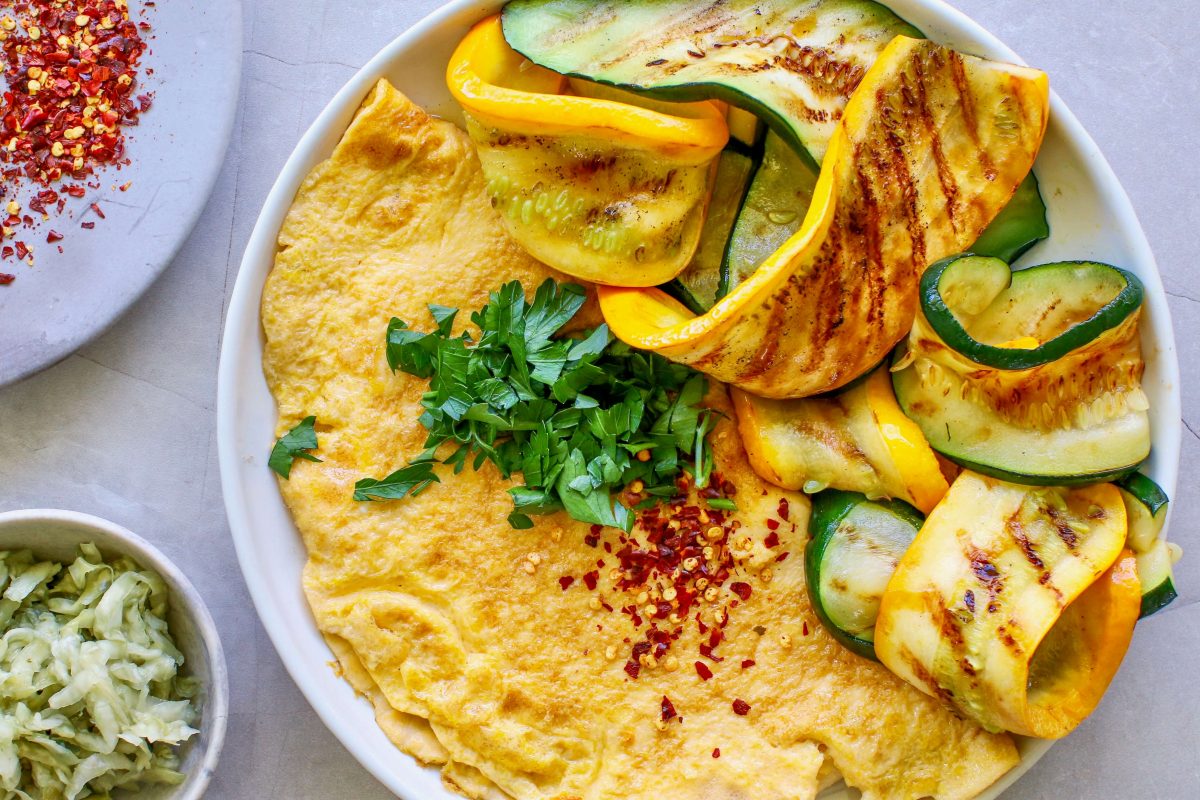 25 May

Easy Omelette with Charred Zucchini

How to make a nourishing breakfast in no time!

This Easy Omelette with Charred Zucchini breakfast by Luke Hines is so easy, healthy and most of all delicious. The addition of the charred zucchini adds a fresh and hydrating twist that you will love!

Topped with avocado oil to boost your skin, increase your energy and keep you feeling fuller for longer, you know you'll be fuelling the right way. This recipe is perfect for any day of the week!

Keto, Paleo, Vegetarian friendly.

Here's more on the benefits of Avocado Oil.

Serves 1
Ingredients
---
2 free-range eggs whisked
1 tablespoon coconut cream, optional
1 tablespoon fresh herbs, finely chopped
1/4 teaspoon dried chilli flakes, optional
pinch of sea salt to season
1 tablespoon fermented vegetables to serve, optional
Charred Zucchini
1/2 zucchini cut into ribbons
1 tablespoon avocado oil spray
1 tablespoon lemon juice
1/4 teaspoon dried chilli flakes, optional
sea salt and pepper to season
1/2 tablespoon coconut oil, for frying
Method
---
Heat your frypan over medium heat with some coconut oil. Whisk or lightly beat your eggs with the coconut cream (if using) Add your whisked eggs, season with salt and cook gently until the edges begin to firm up, about 2-3 minutes. Gently fold in half and continue cooking for 1-2 minutes. Remove from the pan onto your serving plate and get onto your zucchini.
Add a little extra coconut oil to your pan and place your thin zucchini ribbons in the pan, and drizzle with avocado oil spray and cook until lightly charred and golden brown on each side, about 2-3 minutes. Season with salt pepper and serve alongside your omelette. (Zucchini can also be done on a separate pan whilst your omelette is cooking).
Sprinkle your plate with the dried chilli flakes if using, fresh chopped herbs, a serve of fermented veggies and enjoy!