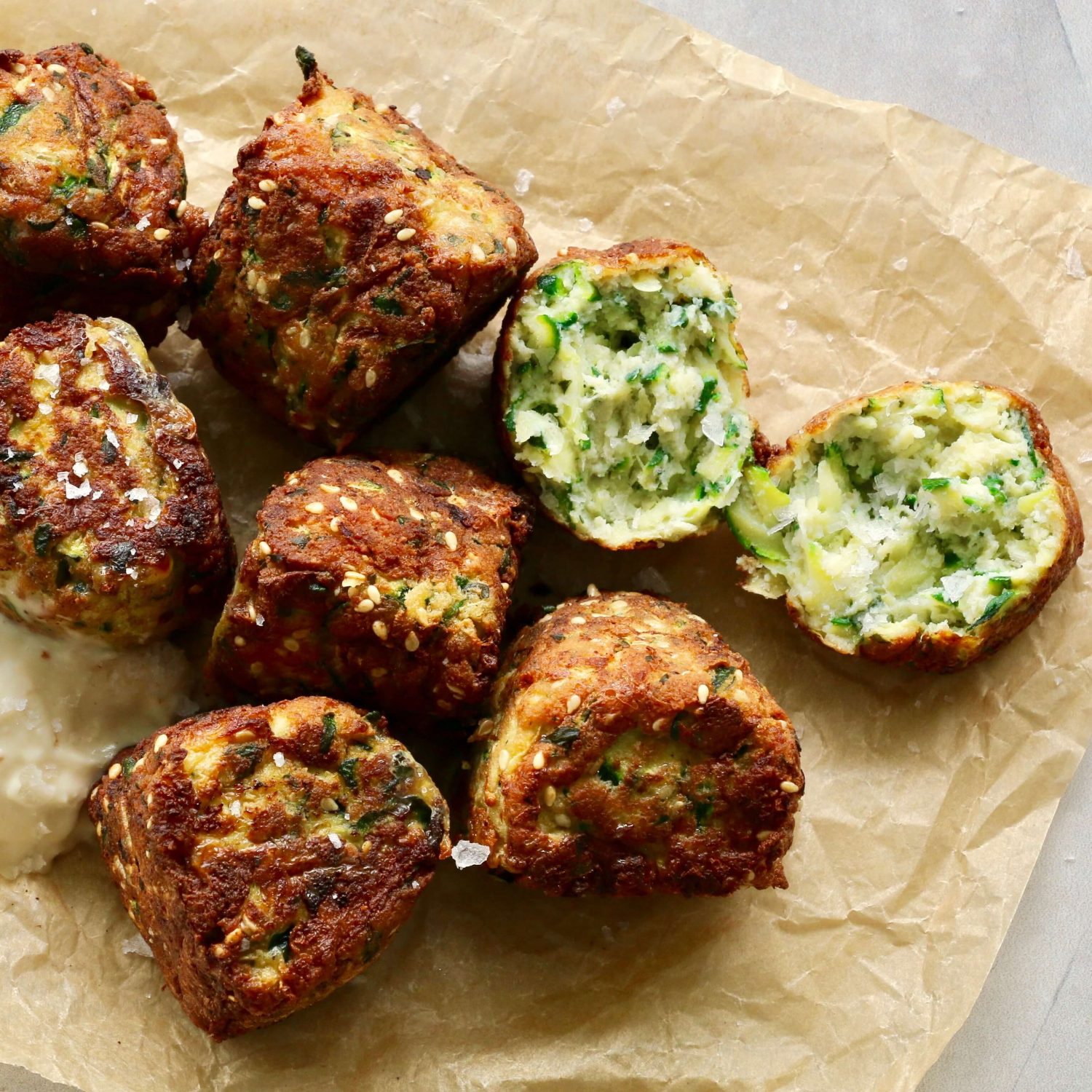 18 Jun

Crispy Zucchini Nuggets

The zucchini has finally become a nugget! Crispy, healthy and so delicious.

These plant-based crispy zucchini nuggets are so quick to make, meaning they are perfect for a healthy snack, to curb cravings or even for entertaining!

Packed with fibre, vitamins and minerals, and healing phytonutrients – delicious morsels of health and flavour. Enjoy simply with some sea salt or a drizzle of Avocado Oil and aioli.

Keto friendly, Plant-based and Vegan option, Paleo, gluten-free, dairy-free, refined-sugar-free and nut free.

This delicious and health-boosting recipe is by Luke Hines.
Ingredients
---
2 cups grated zucchini, excess moisture squeezed
1 free-range egg whisked (or 1 tablespoon ground flax meal + 3 tablespoons water)
2 tablespoons coconut flour
1 tablespoon sesame seeds
1/4 teaspoon salt, plus extra to season
1/4 teaspoon of your favourite spice/s
1/2 tablespoon coconut oil, for frying
extra-virgin avocado oil
1 tablespoon mayo or aioli
Method
---
In a bowl, mix together your grated zucchini, egg (or flax meal and water), coconut flour, sesame seeds, salt and your favourite spices if using. It should form a thick paste/batter. If too wet, add a little extra coconut flour, and if too dry, add another egg (or flax+water).
Preheat your oven to 180C and line a baking tray with baking paper and melt your coconut oil in a fry-pan over medium to high heat ready for frying.
Dollop tablespoon amounts of mixture into the hot fry-pan and brown on all sides, only turning or moving once sturdy enough to flip or move. Once all sides are browned and charred, transfer your nuggets to the prepared baking tray lined with baking paper.
Transfer the batch of nuggets into the oven and continue to cook through for another 8-10 minutes until perfectly golden brown on the outside and cooked through.
Serve with a drizzle of extra-virgin avocado oil and your favourite mayo or aioli, season well with some extra salt if needed, dig in!