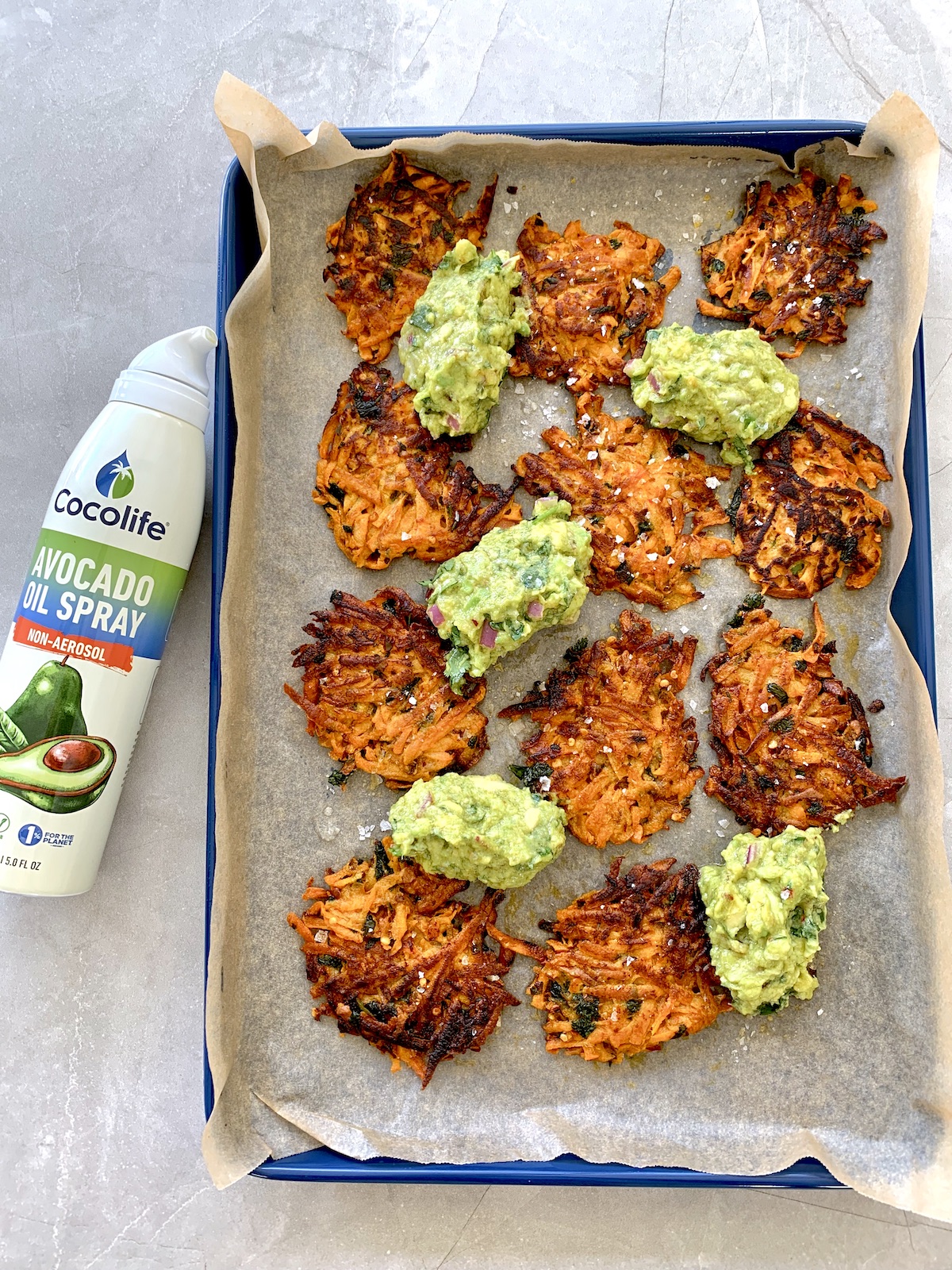 15 Aug

Crispy Sweet Potato Rostis
Crispy Sweet Potato Rostis with Indian Avocado Smash
These Crispy Sweet Potato Rostis are the perfect plant-based dinner! 100% vegan, bound with flax seeds and lovely and charred. Topped with avocado oil infused creamy Indian-spiced avocado smash!
The best part is the rostis can be enjoyed hot or cold, so we always make extra for a delicious lunch during the week.
The recipe is gluten-free, dairy-free, vegan and so quick and easy to make. Created by the talented Luke Hines.
Serves 2. Simply multiply the recipe to serve the whole family.
Ingredients
---
350g sweet potato (about two medium) peeled and grated
3 tbsp flax seeds, mixed with 6 tbsp water to make flax eggs
1/4 cup coriander leaves, chopped
1/2 tsp dried chilli flakes (optional)
Sea salt and freshly ground black pepper
1 tablespoon coconut oil for frying
Indian-spiced Avocado Smash
1 large avocado, roughly mashed
1 tbsp chopped coriander leaves
¼ red onion, finely diced
½ tsp each ground cumin, ground coriander & dried chilli flakes
zest and juice of 1 lime, plus extra wedges to serve
Cocolife non-aerosol avocado oil spray
1 tbsp apple cider vinegar (optional)
sea salt and freshly ground black pepper
Method
---
Add the sweet potato, flax eggs, coriander and chilli flakes to a bowl, season well with salt and pepper and mix well to combine.
Heat 1 tablespoon of the coconut oil in a large nonstick frying pan over medium heat. Working in batches, ladle 3 tablespoons of the sweet potato mixture per rosti into the pan and spread it out a little, then cook for 3–4 minutes or until golden and crispy and firm enough to flip with a spatula. Turn and cook for a further 3–4 minutes, then drain on paper towel and transfer to a low oven to keep warm while you cook the rest, adding the remaining coconut oil to the pan as you go.
For the avocado smash, add all the ingredients to a bowl and mash them together with a fork (I sometimes add 2 tablespoons of avocado oil and 1 tablespoon of apple cider vinegar to this if my avocado is a little firm). Season with salt and pepper and set aside.
When ready to serve, divide the rosti among plates and top with the spiced avo smash.
Season well with salt and pepper and enjoy.
---