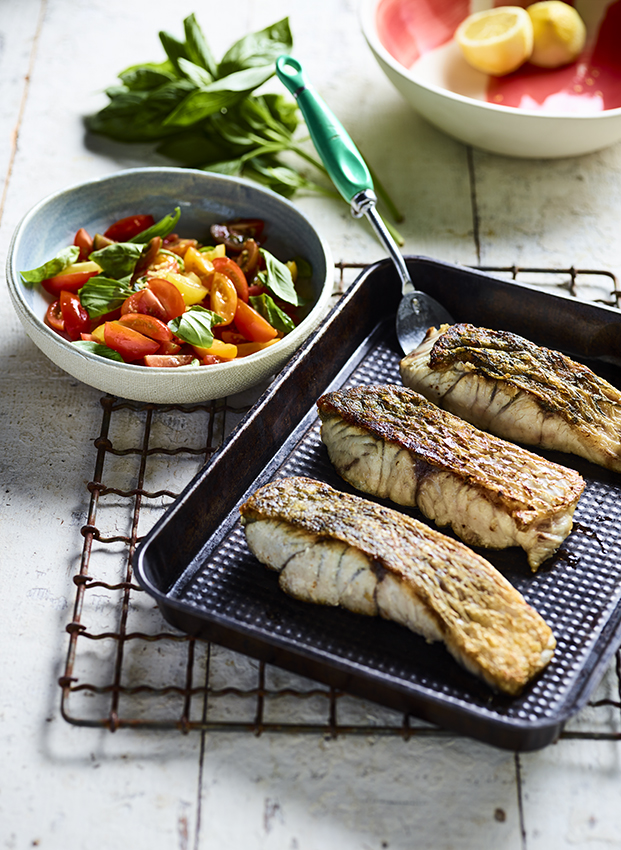 16 Apr

Crispy Skinned Barramundi with Tomato and Basil Salad
Crispy Skinned Barramundi with Tomato and Basil Salad
This crispy skin barra is the perfect weeknight quickie healthy dinner! We love the taste of the crispy fried barra, cooked in our coconut oil with a tomato and basil salad dressed in our avocado oil … YUMMM!
The recipe is gluten-free, dairy-free, vegetarian and simply amazing! Created by the talented Luke Hines.
Serves 4. 
Method
---
Remove the barra fillets from the fridge and leave to rest on the bench for 5 minutes. Season with salt and pepper.
Heat the coconut oil in a large frying pan over medium heat.
Place the seasoned barra fillets in the pan, skin-side down, and cook for 3-4 minutes, or until the skin is nice and crisp. Use a spatula to gently flip the fillets and cook for another 3-4 minutes, or until cooked through. Remove from the pan, cover loosely with foil and set aside to rest.
To make the tomato and basil salad, add the tomato, avocado oil, lemon zest juice and basil to the pan and stir into the delicious pan juices. Heat gently, stirring, for 1 minute or until warmed through, then serve alongside the delicious fish.
Recipe re-created from the talented Luke Hines Healthy Made Easy book.
---