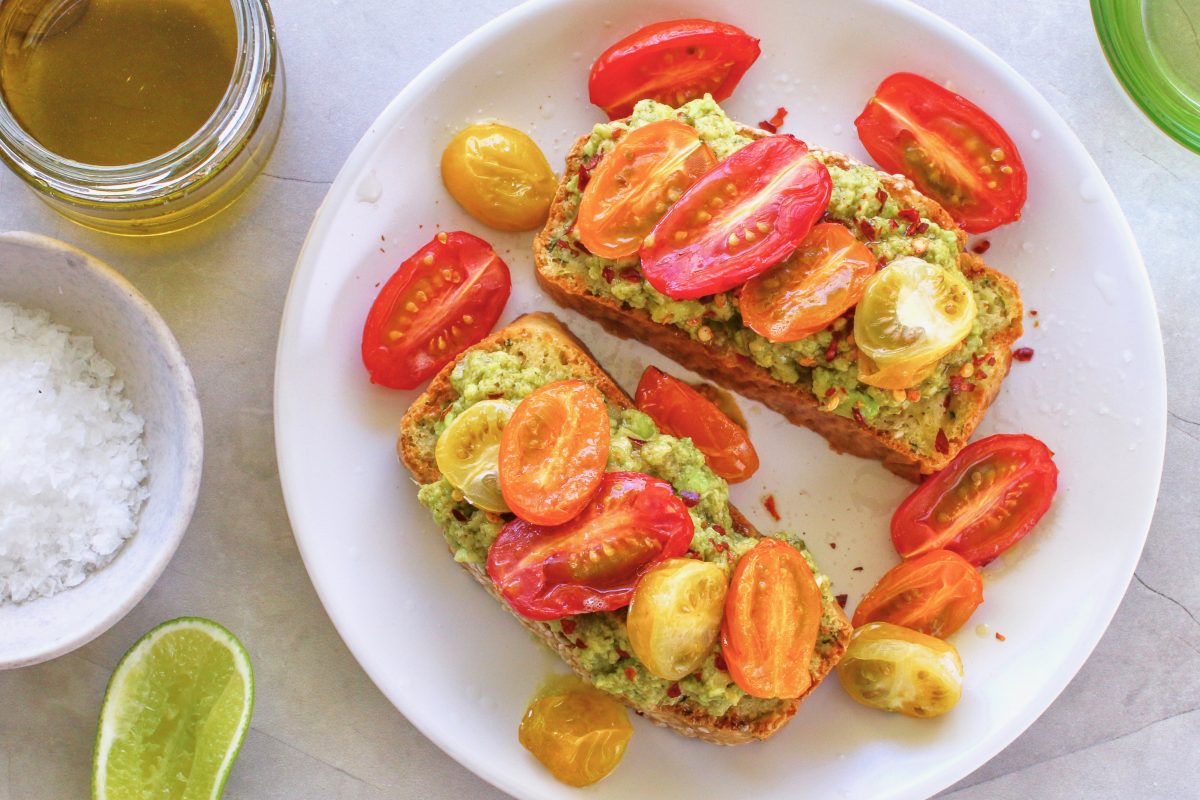 20 May

Avocado Breakfast Bruschetta

Whether you are removing processed and refined ingredients from your diet, or looking to reduce your gluten and grain intake, learning how to make a delicious and easy gluten and grain free bread can be a game changer.

This quick, easy and delicious breakfast bread by Luke Hines means you can still enjoy your favourite recipes like scrambled eggs on toast, or the beautiful breakfast bruschetta we've made here with our pure Avocado Oil. Looking after your health is never about going without, it is about finding healthier sustainable options that keep you feeling amazing by boosting your energy and metabolism, and helping reduce inflammation.

For more on the benefits of Avocado Oil, read this

Makes 1 Medium Loaf
Ingredients
---
6 free-range eggs
300g zucchini, grated (2-3 zucchinis)
1 cup arrowroot or tapioca flour (130g)
2 cups hazelnut or almond flour (200g)
1/2 cup chia seeds (60g)
1 teaspoon baking powder
1/2 teaspoon sea salt
2 teaspoons apple cider vinegar
2 tablespoons sesame seeds
1/4 cup chopped olives (optional)
Bruschetta Toppings
5 cherry tomatoes, halved
1 tablespoon avocado oil spray
1 tablespoon lemon juice
1/4 teaspoon dried chilli flakes, optional
sea salt and pepper to season
1/2 tablespoon coconut oil, for frying
Method
---
For the bread, preheat your oven to 160C and line a 22 cm loaf tin with baking paper.
Combine the arrowroot or tapioca flour, hazelnut or almond meal, chia seeds, baking powder and salt in a large mixing bowl.
In a separate bowl, lightly whisk the eggs and stir in the apple cider vinegar and grated zucchini. Combine the wet and dry ingredients and mix everything together with a spoon to form a thick and slightly wet dough, this is when you add the olives if using. Pour the dough into the loaf tin and sprinkle with the sesame seeds.
Bake for 1 hour, or until golden on top. To test, press down gently on the top of the loaf – if it holds its shape, its ready.
For the Bruschetta toppings, heat a small fry pan with some coconut oil, then simply pan fry your cherry tomatoes for 1-2 minutes or until beginning to soften, then remove from the pan and fry your bread on both sides to lightly toast and warm. Add your cherry tomatoes, avocado oil spray, chilli flakes (if using), a squeeze of lemon juice and season with salt and pepper and enjoy!
To store your loaf, cover in plastic cling wrap or keep in an airtight container for up to 5 days.